Developments
Pan Pacific to open second Parkroyal in Melbourne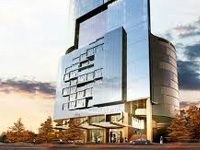 Pan Pacific Hotels Group will open the 281-room Parkroyal Melbourne – its fourth Parkroyal hotel in Australia and the second in Melbourne – in 2016.
The hotel, developed by Digital Harbour Holdings and managed by the group, will offer 281 beautifully furnished rooms, a restaurant and lounge, gymnasium, lap pool and meeting spaces. It is located within the Digital Harbour Precinct of Melbourne Docklands. Docklands is an $12 billion premium waterfront development that is part of an on-going project to renew the city's bustling CBD.
Parkroyal Melbourne will be part of the 37-storey hotel and apartment complex The Altus, which was formally launched by the minister for planning, Matthew Guy and the lord mayor of Melbourne, Robert Doyle. Designed by Moull Murray Architects, the glass sheathed tower, which offers 360° panoramic views of the city centre and the Victoria Harbour waterfront, is set to strike an architectural statement in the city's landscape.
Spanning the first 18 storeys of The Altus complex, Parkroyal Melbourne is one of the first hotels in Melbourne Docklands targeting an award of merit under the Docklands Ecologically Sustainable Development Guide.