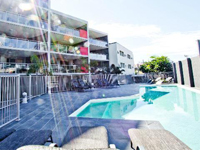 Australian hoteliers, Mantra Group, are continuing with domestic expansion plans announcing properties in Brisbane and Townsville with further additions imminent to its Australian network in 2014.
The Group's 115-strong Australian network is set to increase with the management of the recently refurbished Skyline Court apartment complex which will rebrand to BreakFree Fortitude Valley Brisbane in March 2014, offering an economy style option for both corporate and leisure travellers in the constrained Brisbane market.
Located 2km from Brisbane CBD the property offers studio, one, two and three bedroom apartments within walking distance to the restaurants, cafes and bars of Fortitude Valley and The Emporium shopping precinct. Facilities include a swimming pool, barbeque and recreation area, gymnasium and secure car parking.
The BreakFree joins Mantra South Bank and Mantra on Queen in the Group's Brisbane network to now offer a total of 420 rooms in the city. Other CBD BreakFree hotels are located in Sydney, Melbourne and Adelaide.
In Townsville, the hotel management agreement was formally signed on the brand new 185-room hotel set to open in 2016 as part of a restaurant and leisure precinct planned for the city's CBD.
The hotel development project, to be known as Mantra Townsville, will bring a much needed four-star corporate hotel to the city, catering to the region's demand from the mining resources sector and overall expansion.
Mantra Townsville will also have extensive conferencing facilities for up to 500 delegates, from boardroom style rooms for smaller groups through to large conference venues. The 185 hotel rooms and suites will offer contemporary style and comfort as well as a convenient location for both corporate and leisure guests. Leisure facilities will include a pool, gym and spa.
Further additions to the Mantra network include apartment hotels in Brisbane and Melbourne which are expected to be formally announced by April 2014. The new hotels complement other recent announcements of future additions to the network which include Peppers Dunmore Brisbane set to open in 2015 and Peppers Docklands Melbourne in 2016.