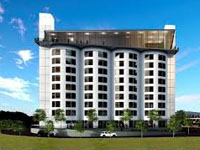 Launceston developer Errol Stewart is to double the room capacity of The Silos hotel. The proposed $20 million hotel will now have 140 rooms, split between the silo barrels and a new 10-storey building with conference facilities behind the silod structure on its Lindsay Street side.
The development requires dispensation approval from the Tasmanian Planning Commission and rezoning approval from the council before a development application is lodged.
Launceston City Council general manager Robert Dobrzynski said the council welcomed the initiative shown by Mr Stewart and other city developers for tourism infrastructure.