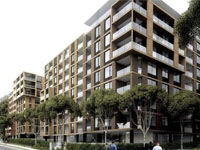 Winten Property Group has lodged plans for a 295-unit complex on the last remaining significant parcel of land to the north of Waitara station in Sydney's outer suburbs.
The company is seeking approval to build three nine-storey residential unit blocks including a three-storey basement carpark comprising 344 spaces and the construction of a 2520 sq m public park.
Winten has acquired 13 individual properties and has options to purchase the remaining two properties all of which would be demolished.
Winten 's application seeks a variation to the LEP maximum building height control of 26.5m, however it points out that only one of the six adjacent buildings complies with the height limit. The maximum height for the development is 30.4m.