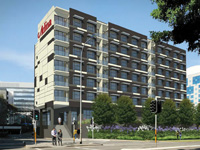 Toga Hotels today announced the start of construction on Adina Apartment Hotel Mascot, reinforcing the group's long-term commitment to expanding its portfolio of leading apartment hotels across Australia. Once finished, the property will be home to 123 serviced apartments across seven storeys consisting of 51 studio, 66 one bedroom and six two bedroom units.
Rachel Argaman, CEO of Toga Hotels, said, "We're delighted construction has commenced on this development, which will bring apartment style accommodation to the thriving Mascot business hub. Sydney Airport is an ideal location as we prepare to cater to the growing demand from local businesses, along with leisure and business transit travellers looking for convenient accommodation."
This will be Toga Hotels' second property at Sydney Airport, following the announcement of work to commence on the build of Travelodge Mascot later this year. Located less than 1km from Sydney Airport on Bourke Road, Adina Mascot will be well-positioned to service the growing number of travellers looking for a comfortable place to stay with all modern and efficient features.
Capital Construction will lead the 14 month construction project, with completion earmarked for mid 2015.
Adina Mascot will be the 21st Adina Apartment Hotel in Australia and the second joint venture with Capital Corporation following the completion of the highly successful Adina Apartment Hotel Norwest.
Image: Adina Apartment Hotel Mascot