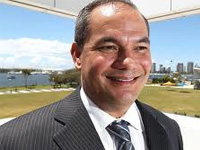 Gold Coast mayor Tom Tate, who promised to sell his Islander Hotel during the council election, has signed off on a campaign to sell the units, having failed to sell the hotel in the market in one line.
He said he was still committed to offloading the hotel but would retain the Backpackers and his Vegas in Paradise and embark on a $2.5 million plus "serious revamp".
"I want to make this more an up-market backpackers, while retaining the retro feel of the Islander. I will keep the iconic pink," he said.
"The backpackers remain a huge market — they are no longer known as backpackers. They are flashpackers and there is a huge market for the Gold Coast there."
Cr Tate has instructed Ray White Surfers Paradise to sell the 50-odd hotel units starting fully furnished at under $300,000.