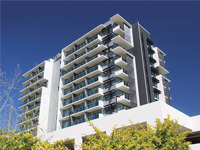 The brand new Oaks Grand Gladstone hotel in Queensland is officially open for business.
A visually striking development in its own right, the 144-room hotel spread across nine levels offers travellers with a fresh accommodation choice in a supremely central location, perfectly complemented by some of the best views in town, superior leisure facilities, popular onsite dining establishments and state of the art conference and event venues that renders the hotel in a class of its own within the Gladstone hotel portfolio.
Steeped in rich history, the hotel pays homage to Gladstone's fascinating heritage with a custom-designed six-panel mural extending around the property's exterior. A talented team of professionals, Kris Kowalski Architects in association with Urban Art Projects Studio, created, engineered and installed the aluminum masterpiece, which has received much attention and positive feedback from locals and visitors alike during the comprehensive construction phase.
Inspired by the 'waves' of settlement and rich local history, intricately plotted onto a sequential timeline, the 40m artwork chronicles the voyage of Captain Matthew Flinders and other explorers during the 1800s and the discovery and subsequent establishment of Gladstone.
Oaks Grand Gladstone offers the choice of studio and one bedroom apartments featuring modern décor, king beds, full kitchen facilities, LCD TVs with cable channels, reverse-cycle air conditioning and wi-fi Internet access.
The property's onsite leisure facilities include a swimming pool, well-equipped gymnasium and two restaurants to suit all tastes and dining moods – Ribs & Rumps and The Coffee Club.
General manager of sales for Oaks Hotels & Resorts, Daniel Csortan, said the new Oaks Grand Gladstone heralded the arrival of a new accommodation standard in the area.
"Gladstone is a popular holiday, conferencing, dining and event destination in its own right and now travellers can combine all four with a visit to Oaks Grand Gladstone – whether for a leisurely long weekend, week away or extended stay with family, friends or colleagues."
Oaks Grand Gladstone is just minutes from the Gladstone Entertainment Centre, train station, shopping centre, Gladstone Airport and Gladstone Marina.