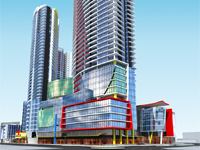 Management rights for Southport Central on the Gold Coast is up for sale more than five years after the Raptis Group's demise.
Ray White Hotels has announced a four-week expressions-of-interest campaign for the Southport project's assets. With 513 apartments in the letting pool the deal is likely to be one of the biggest ever done on the Gold Coast – the sale price believed to be in the region of $8-$10 million.
Finance broker Steve Burton, of PCS Finance, said, "This has been a long time coming." Mr Burton said the inquiry rate for management rights had increased tenfold from the year before.