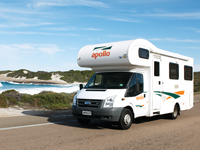 News
Wyndham partners with Apollo motorhomes
Asia Pacific's leading timeshare company, Wyndham Vacation Resorts Asia Pacific has partnered with Brisbane based Apollo Motorhome Holidays to trial motor home holidays throughout Australia and New Zealand.
Wyndham will offer this unique style of holidaying to their Privileges by Wyndham members for a limited trial period.
"We currently offer our WorldMark South Pacific Club by Wyndham owners resort stays at a choice of 24 South Pacific resorts. Our Privileges by Wyndham members have even more holiday choices, including access to stays at more than 4000 international resorts through our sister clubs, exchange and cruising partners. Now these Privileges members have even more choice with the added benefit of Apollo Motorhome Holidays," said CEO and managing director of Wyndham Vacation Resorts Asia Pacific, Barry Robinson.
Eligible WorldMark South Pacific Club owners can choose between two types of Apollo campers including 2-berth campers and 6-berth motorhomes.
Apollo CEO Luke Trouchet said, "WorldMark Owners have opted for a lifestyle that is filled with travel and adventure. Their ownership already gives them many locations to choose from, but the addition of Apollo Motorhome Holidays gives Privileges by Wyndham members unlimited dots on the map," he said.