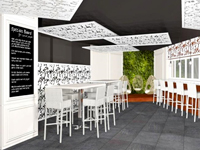 Parkroyal Darling Harbour, Sydney, has confirmed the June opening of Abode, the final stage of the multi million dollar interior redesign that started in late 2012.
Abode, located on the corner of Day and Bathurst Street, will offer Sydney diners and hotel guests a modern bistro style restaurant and bar where everyone can feel a sense of familiarity and savour the fresh flavours of the season.
Set in an invigorating multi spaced interior that draws upon natural earthy tones mixed with striking carpets from Catherine Martin against Florence Broadhurst signature wallpaper, Abode will be Sydney's newest dining hub. Guests will be able to make themselves at home across various spaces throughout the venue including a lounge, sports bar and decking area as well as stylish and modern dining room. Patrons will feel a sense of familiarity, a place of comfort where the whimsical yet elegant interiors match the delicious flavours of the menu, and where the spaces throughout the venue are as varied as the dishes themselves.
The kitchen will offer a distinctive menu with fresh, seasonal flavours from locally sourced producers expertly prepared to deliver dishes that encourage people to come together and share conversation.
"The opening of Abode is a really pivotal step for Parkroyal Hotels & Resorts and for our Darling Harbour property." Craig Bond, area general manager Oceania commented.
"We understand the need to offer a place that has its own distinction, that connects people through food that has been sourced with thought and care as well as offering comfort, affordability and outstanding service. We have also added elements to the restaurant that will ensure diners are offered a complete dining experience with an open-plan kitchen where people will be able to watch the chefs preparing and cooking their dishes. Abode is the final phase of our hotel refurbishment and allows us to operate the restaurant and bar with its own identity creating a venue that can be enjoyed by everyone.
Our hotel guests get the benefit of its proximity whilst we also engage with tourists, passers-by and local businesses located in the Darling Quarter precinct.