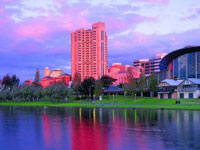 More than $17 million of initiatives in the state budget will boost South Australia's tourism industry.
The budget includes $6 million over four years for a new fund to secure more major events for South Australia, $2.475 million over three years to make Tasting Australia an annual event, $1.68 million over four years to create a new bird sanctuary along Adelaide's coastline, and $7.5 million to support the development of a new motor racing circuit at Tailem Bend.
Tourism minister Leon Bignell said investing in tourism generates jobs and revenue for the state, especially for South Australia's regions. "Our regions are at the forefront of South Australia's tourism success, and that's why we promised during the election campaign to deliver exciting new initiatives like the $6 million Major Events Bid Fund," he said. "Tourism is worth $5 billion a year to the South Australian economy, and this state budget investment will help us achieve our goal of lifting that economic benefit to $8 billion a year."
The new bid fund will ensure South Australia can bid for and secure more major events, and minister Bignell said more events meant more interstate and overseas visitors. "South Australia is already attracting record numbers of international visitors, with recent figures from the federal government showing a 7.8 per cent increase during the past 12 months – above the national growth rate of 6.3 per cent," he said.
"And those international visitors are arriving at Australia's fastest growing capital city airport. In just two years, the number of international seats coming directly into Adelaide has increased by 90 per cent. Attracting great new events to South Australia will generate significant economic benefits for the tourism industry and local small businesses, as well as creating and supporting hundreds of jobs throughout the state." The minister said along with the new major events fund, the state government last November created a $2 million fund to help the Adelaide Convention Centre to secure more top level conferences.
"This is already paying dividends, with the Convention Centre reporting a 36 per cent increase on confirmed future business compared to last year," he said.
The state budget also supports South Australia's tourism and premium food and wine sectors with measures including $2.475 million over three years to make the Tasting Australia food festival an annual event from 2016. Minister Bignell said making Tasting Australia an annual event would help to confirm South Australia as the food and wine capital of Australia.
"Our decision to make the Adelaide Festival, the Fringe, and WOMADelaide annual events has been a great success, with WOMAD now generating around $11 million for the South Australian economy every year," he said. Minister Bignell said the state government's commitment to establish an international migratory bird sanctuary in the former Dry Creek saltfields will also attract more visitors to Adelaide.
The State Budget also includes $7.5 million to support the Peregrine Corporation's $65 million proposal to develop a new motor sport facility at Tailem Bend – which has the potential to create hundreds of local jobs and attract motor racing fans from around Australia.