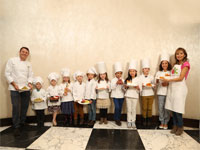 InterContinental Hotels Group is rolling out its new signature Planet Trekkers Menu, created exclusively for children, across its InterContinental Hotels & Resorts properties.
Hotels in Australasia, Middle East and Africa are dishing up exciting and nutritionally balanced meals that promise to take young explorers through an exciting journey of food discovery.
Designed exclusively for young InterContinental hotel guests by award winning chef Theo Randall and child food expert and best-selling international author Annabel Karmel, the new menu was developed from start to finish with nutrition and food exploration at its core. It features delicious dishes with a myriad of flavours, textures, smells and tastes that will take children on an educational culinary voyage around the world while ensuring an enjoyable and nutritionally balanced meal.
Theo is renowned for creating simple, authentic dishes using the best and freshest ingredients, which has resulted in his Italian restaurant being lauded as one of the best in London. Annabel has written over 37 books on children's nutrition and cooking for children, and is internationally recognised as a leading authority on helping children to eat properly.
As part of the menu's development, Annabel and Theo conducted a test and learn tasting session with young guests to explore a variety of ingredients that appeal to all palates.