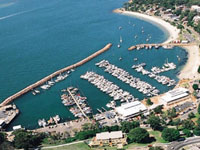 Port Stephens councillors unanimously approved the $20 million marina resort at Nelson Bay on Tuesday [June 24]. , boosting hopes of improving the town's economy.
The redevelopment includes the building of two towers of seven and eight storeys that will have 70 four-star apartments, a 400-seat conference room, a pool and health spa.
Chan Industrial director Anton Chan, described the decision as fantastic, saying he hoped construction would begin within two years.
A five-storey building on the site will be demolished to make way for the new project.