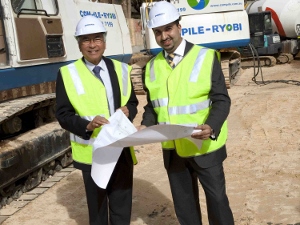 Leading serviced apartment provider, Quest Serviced Apartments is more than doubling its room numbers in Western Australia over the next two years in response to increasing demand from a thriving corporate sector.
Three of the properties are located in central Perth on Adelaide Tce, Kings Park Rd and Mounts Bay Rd, one on Flinders Lane in Rockingham and the fifth on the corner of Pakenham and Short Streets in Fremantle.
Quest CEO, Zed Sanjana announced the five new properties on 30 June, alongside the member for Perth Eleni Evangel during an inspection of the Quest Kings Park Road site (pictured).
Quest currently operates nine properties in WA (Bunbury, Harbour Village, Mandurah, on James, on Rheola, Scarborough, South Perth, West End and Kalgoorlie), providing accommodation to around 30,000 business travellers each year. When doors open on these new properties, Quest will offer a total of 871 rooms across the state, hosting more than 60 thousand extended-stay business travellers each year – a 128% increase on the existing number.
All five properties have received development approval and construction has commenced on all except Fremantle and Adelaide Tce, both of which are expected to see works start in the next month.
Mr Sanjana said favorable economic conditions have positioned Quest well to proceed with the company's growth strategy in WA. "Demand for extended stay accommodation is currently exceeding supply in Australia, nowhere more so than in Western Australia. Perth has leading occupancy rates with high room yield growth which is set to continue thanks to the State Government's commitment to growing the economy," explained Mr Sanjana. "The demand in the west is being primarily driven by the corporate market and we feel the time is right to capitalise on these strong economic indicators and push our growth, with five new developments underway to more than double our current room numbers."
Despite some decline in commodity prices, significant investment continues in Western Australia, with a number of major projects presently underway in Perth including Elizabeth Quay, Perth City Link, Riverside and a major sporting stadium.
Further strengthening the capital city's position for major investment is the $750 million transformation of Perth Airport currently taking place. The city also has the added benefit of being ideally located in the world's most populous time zone, with easy business access to Europe, Asia and the USA.
These announcements come on top of the eight new Quest properties already scheduled to open nationally in 2014 across a range of CBD, suburban and regional locations. Most recently Quest Abbotsford (VIC) was opened in May, to be followed by King William South (SA), Woolloongabba (QLD), Berrimah (NT), Wellington (New Zealand), Newcastle West (NSW), Melbourne Airport (VIC) and Townsville (QLD).
Quest's five new WA properties include:
130 Mounts Bay Road, Perth
Construction has started
71 keys
15 Flinders Lane, Rockingham
Construction has started
96 keys
54 Kings Park Road, Perth
Construction has started
72 keys
Corner of Pakenham Street and Short Street, Fremantle
Early works to start in July
120 keys
176 Adelaide Terrace, Perth
Construction to start in late July
130 keys