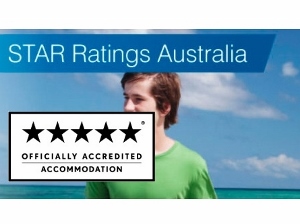 The Accommodation Association of Australia and Star Ratings Australia have announced the commencement of a new three year memorandum of understanding.
Following six months of discussions and negotiations the two organisations have formally established a framework which will strengthen industry involvement in the independent accommodation rating scheme. "Star Ratings remain the only validated, quantified and objective assessment of accommodation standards and the association believes the industry has a vested interest in ensuring the scheme is maintained and the preferred measure of a property for consumers," said Accommodation Association of Australia CEO, Richard Munro.
According to Munro, the memorandum of understanding aims to address many of the issues and concerns expressed by the association and their members over recent years. This will be achieved through the involvement of the association in key areas of the scheme and management's new strategic direction. For example, the provision of mystery guest services for dealing with consumer complaints; certifying and training contract property reviewers; developing industry skills in the practice of asset management; and providing independent counsel and advice for rating disputes.
"We are delighted to have the support of the Association as we roll-out our new direction for stars," said Star Ratings Australia GM, Damien Hanger. "Industry representation and involvement is an important element of our plan to re-invigorate the scheme."
A key focus of the MOU has been to address the primary concerns of association members and to support management's efforts to deliver a reliable and credible rating system that reflects Australian accommodation standards. "It is plainly evident that the Australian Auto Clubs remain committed to an independent Star Rating scheme and the benefits it brings to their 7.4 million members across Australia," added Mr Munro. "We are excited at the prospect of working with new management and the clubs to realise the potential of stars from an industry and member perspective."