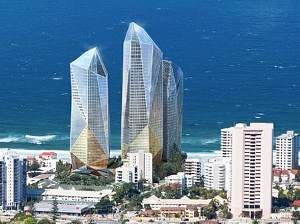 Wanda Commercial Properties has announced it and subsidiary Wanda HK had entered into a joint venture to develop Jewel, purchasing 55 per cent of China-based Ridong Gold Coast Development for $290 million with the rest held by Ridong owner Riyu Li.
The $1 billion Jewel project at Surfers Paradise, designed around three towers, was announced in 2011, but the beachfront site has remained vacant whilst Ridong Group searched for a financial partner.
Construction is expected to start next year and finish in 2018 in time for the 2018 Commonwealth Games.
Steve Haggart, who heads up Ridong Group's Australian arm, said it had been a "long journey" to find the right partner for the Jewel project but he was satisfied the company had made the right choice. Engaging with Wanda was part of a long-term strategy to embark on joint ventures on the Gold Coast.
Ridong purchased the 1.13ha Jewel site for $81.8 million in 2010.