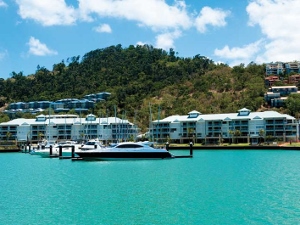 Mantra has bought out the last of Outrigger's Australian hotels in a deal worth almost $30 million.
The Gold Coast-based Mantra Group has announced details of a $29.5 million agreement to take over the last four resorts of Outrigger Hotels and Resorts Australia.
It is the second time Outrigger has sold out of the Australian accommodation sector when Mantra previously acquired 11 Outrigger hotels in 2007.
The deal will involve rebranding of Outrigger properties: Outrigger Surfers Paradise; Outrigger Twin Towns Resorts, Coolangatta; Outrigger Little Hastings Street Resort & Spa, Noosa; and Boathouse Apartments by Outrigger Airlie Beach (pictured).
Mantra CEO Bob East said the acquisition was a natural fit for Mantra Group, extending the group's footprint in key leisure destinations. "To acquire properties in Airlie Beach, Noosa and the Gold Coast in a single transaction is very rare, these areas represent the most popular and emerging tourism hubs in Australia.
"The properties are well suited for domestic leisure guests, inbound guests and conference and incentive participants."
Settlement of the deal is expected by June.