Developments
Sydney's next hub of inspiration due to arrive in 2017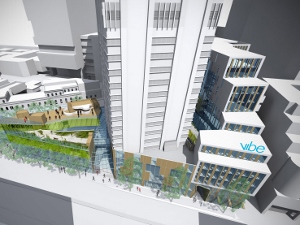 Toga Far East Hotels is completing a management agreement to establish a new-build, next-generation Vibe hotel as part of Cromwell Property Group's redevelopment of Northpoint Tower, addressing demand for much-needed hotel accommodation in North Sydney's CBD.
Due for completion in early 2017, the 188-room hotel will become one of the next generation of Vibe Hotels, joining the newly-opened Vibe Hotel Marysville in Victoria and Vibe Hotel Canberra Airport, another new-build hotel due to open in quarter four 2015.
The North Sydney property will effectively replace the current Vibe North Sydney, Milsons Point hotel which closes on March 31.
TFE Hotels' agreement with Cromwell Property Group to establish a next-generation Vibe Hotel as part of its Northpoint development follows confirmation of the closure of Vibe North Sydney in Milsons Point, which was sold to Cbus Property in 2014 and is set to close its doors on 31 March 2015.
"We are delighted to have had 10 wonderful years with this renowned Vibe Hotel in its stunning location right beside Milsons Point; and the hotel has consistently delivered solid financial returns. This new next generation hotel will ensure Vibe Hotels remains in North Sydney, continuing to support the large corporate community in this part of Australia's largest city. North Sydney will follow the opening of our first next generation Vibe Hotel in Canberra and the new Vibe Hotel Marysville, designed with features to connect you to the locale and enabling our guests to experience the best of the local area" said TFE Hotels CEO, Rachel Argaman.
These brand signatures will be the hallmark of Vibe Hotels' next generation hotels:
Rooms that Inspire – Guest's rooms are a haven in which to relax and feel inspired, with modern and stylish finishes, art and home-grown delicacies in the mini bar reflecting the locale.
A Vibe Lifestyle – Comfortable lounges and bars enhance social and collective experience with strategically placed power points and USB plugs to help guests stay connectedandcommunal Hubs to mingle, eat, work and drink.
Vibe Connected – Stay connected to your family, friends or work where ever you are. Free Wi-Fi lets you do what you want, where you want. Vibe Community Connection is an initiative to help support the local community surrounding each Vibe Hotel. As part of this program each Vibe Hotel will support local charities.
Vibe Discovery – Vibe Hotels are close to everything you need to immerse yourself in the locale. Team members play host to our guests – as they welcome you to their "home" and we like to share local knowledge and educational information with our guests, to keep them in the know on what to eat, see and do.
Vibe Fit – Fit Food menu options, local running track maps, an in-room yoga channel or to enjoy a work out with fellow guests; Vibe Hotels have everything you need to stay fit and healthy while travelling.
Creative Conferencing – Vibe meetings are spaces to think, inspire and spur creativity with casual seating and creative breakout areas, note pads filled with inspirational quotes, customised lighting and music, regionally inspired menus, state of the art multimedia and high speed internet.
"This new hotel will feature all the hallmarks of our next-generation Vibe hotels, including inspiring guestrooms and public spaces, free WiFi and our Vibe Fit program for active travellers. We'll also be addressing demand among local corporates for more dedicated event and meeting space in North Sydney with a 300-capacity MICE facility within the hotel, supported by our new Creative Conferencing products and services.
"We're excited to be working with Cromwell Property Group to create another next-generation Vibe Hotel and a fresh option for places to stay and meet in North Sydney," Ms Argaman said.
North Sydney's Northpoint Tower is a 44-storey landmark, currently comprising office and retail space. Its redevelopment will include a complete overhaul of the existing retail offering and construction of a new generation Vibe Hotel on the northern edge of the site.