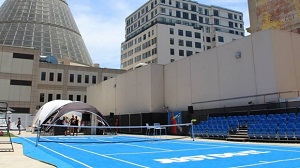 News
Glamping 57 storeys above Melbourne
Melbourne Central shopping centre's owners GPT and Jerome Borazio who operates city bar Thousand Pound Bend, want to create a five-star glamping experience on the roof of the centre.
Mr Borazio thinks it could be an international first – a five-star rooftop campsite in the middle of the city.
"It's about experiencing Melbourne's CBD in a different way. Up here, you forget you're in the middle of the city."
The roof has regularly sat dormant since the centre's 1991 opening although it does sport a tennis court at times.
"There are a multitude of risk assessments and fire plans and engineering documentation we had to go through," says Mr Borazio.
But he still hopes to turn the roof into a luxury overnight glamping venue by the end of May.