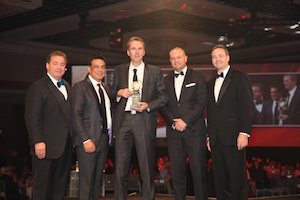 News In Brief
Choice Hotels wins big at International Quality Hotel of the Year
Quality Hotel Taylors Lakes, part of Choice Hotels Australasia, has won the 2015 International Quality Hotel of the Year in Las Vegas.
After being recognised as the 2014 Quality Hotel of the Year in Australasia, the property was eligible to compete for the International Quality Hotel of the Year.
Announced at the Choice Hotels International Hotel of the Year Awards evening, part of this year's Choice Hotels International Convention, the Melbourne based property came equal first with Quality Hotel Curitiba in Brazil, competing against hundreds of other Quality Hotels from across the globe.
Choice Hotels Australasia CEO, Trent Fraser, was in Las Vegas for the award ceremony and paid tribute to the dedicated team.
Mr Fraser said: "Quality Hotel Taylors Lakes' commitment to excellence and outstanding guest service has earned it this top accolade.
"The entire team at Choice Hotels Australasia is so proud of the Australian property, recognised internationally with this award and setting the standards for the entire industry."
Quality Hotel Taylors Lakes General Manager, Eric Visscher, said he was so proud to receive this award and could not have done this without the help of Choice Hotels.
Mr Visscher said: "Approximately three years ago we made the decision to join Choice Hotels. Since then we have not looked back. This partnership has given us the backing and support of a global hotel group who have assisted in improving operational efficiencies, driving new business and improving standards across the property.
"Our hard working staff thrives on providing exceptional service to our guests and we are so honoured to receive this international award."