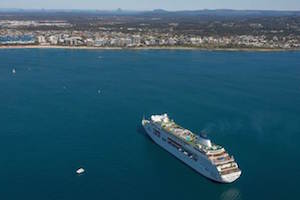 News In Brief
A 'Pearler' of a day as Sunshine Coast welcomes first cruise ship tourists
Passengers from P&O's Pacific Pearl became the first tourists from a major cruise vessel to come ashore for a stop-over on the Sunshine Coast, when the ship called into Mooloolaba over the weekend.
Warm, sunny skies greeted the Pacific Pearl, which had left behind a wet and chilly Sydney the day before.
Sunshine Coast residents and businesses greeted the 1800 passengers enthusiastically with 'welcome passports' offering special dining, sightseeing and day tours to showcase some of the Sunshine Coast's favourite attractions such as Eumundi Markets, Australia Zoo, the beaches and the scenic Hinterland villages.
The 64,000 tonne superliner is the first of four cruise ships that will make stopovers on the Sunshine Coast this year, and CEO of Sunshine Coast Destination Ltd (SCDL), Simon Ambrose, said that the brief – but action-packed – visit would hopefully encourage many of the passengers to return for longer visits in the future.
"We were very pleased that the destination lived up to its name and produced picture-perfect weather for the visit," said Mr Ambrose.
"The warm welcome that passengers received reflected the community's genuine enthusiasm for attracting more cruise ships to the Sunshine Coast, and it gave us a great opportunity to provide a taste of what's on offer.
"We wanted visitors to be able to see the diversity of the Sunshine Coast so the tours offered covered far more than just our beaches. Tours showcasing the region's natural beauty, pioneering Australia Zoo and colourful markets all attracted hundreds of visitors, while restaurants and bars around Mooloolaba reported one of their busiest weekends of the year.
"Sunshine Coast Council, Mooloolaba Business and Tourism and the whole Sunshine Coast tourism community put out the red carpet for passengers and we look forward to becoming a regular stop-over destination for cruise ships in the future."