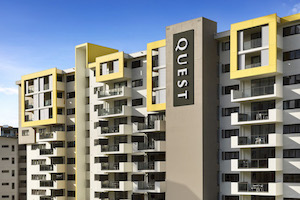 News In Brief
Quest opens brand new property in Brisbane's "creative heart" Quest Kelvin Grove
Quest Serviced Apartments has opened its second Queensland property this month – the brand new Quest Kelvin Grove, one of three new Quest properties to open in Queensland in the second half of 2015.
Located within the Kelvin Grove Urban Village in inner city Brisbane, Quest Kelvin Grove closely follows the opening of Quest Toowoomba July 1, with Quest Chermside on Playfield scheduled to open in September.
Quest CEO, Zed Sanjana said the opening of Quest Kelvin Grove ensures Quest has a good breadth of offerings in Brisbane city and surrounds. The eight existing properties will expand to ten in the next quarter, with Quest Kelvin Grove to be followed by Quest's second Chermside property, Quest Chermside on Playfield.
"In the 2013/2014 financial year, Brisbane received in excess of five million domestic visitors, with an expenditure upwards of $3bn, according to Tourism and Events Queensland. There are many exciting infrastructure projects underway in Brisbane including 1 William Street, the Queensland Schools project, and the Queensland Rail upgrade." said Mr Sanjana.
"We want to ensure Quest is well positioned in every location sought after by our guests to meet all their accommodation needs. I am thrilled to be opening the doors of Quest Kelvin Grove today."
"Brisbane's population has been growing at an exponential rate, with the ABS predicting growth will continue outstripping the rates of both Melbourne and Sydney. I am very confident in the success of our Brisbane properties as accommodation demand in the city continues to exceed supply," he concluded.
Franchisees, Gary Lin and Suzie Yang are delighted about today's opening, expressing their confidence in the property, which has already been very well received by the local community and business sector.
"It's exciting to see the growth that has occurred in Kelvin Grove over the past few years, especially within the Urban Village. It's the ideal location for the new Quest property as accommodation options were previously very limited," said Mr Lin.
"I'm looking forward to establishing Quest Kelvin Grove as the accommodation provider of choice in the local area. I am confident in the ability of the Quest Kelvin Grove team to deliver the high quality accommodation and "home away from home" experience expected from Quest," he concluded.