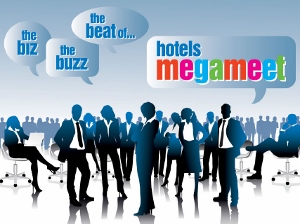 Events
100 Industry Leaders Set for HotelsWorld 2015
With just three weeks to go, preparations are nearing completion for this year's HotelsWorld events that will take place in Sydney at the Sofitel Sydney Wentworth hotel from 27 to 29 July.
HotelsWorld, together with Hotels Investment World and Boutique & Lifestyle Hotels World, comprise three events over consecutive days that bring the accommodation industry together with hotel investors, lenders and other industry stakeholders.
In 2015 the three HotelsWorld events will present over 100 speakers, comprising CEO's and other industry leaders from all parts of the world and all parts of the industry, many of whom have never spoken before at an event in this region.
The list includes most of the leaders of the major hotel companies in the region plus some of the industry's global leaders, including Geoff Ballotti, CEO and President of Wyndham Hotel Group, the world's largest hotel company. In addition, the CEO's of some of the region's leading hotel investors also take part to talk about the state of the hotel capitalmarkets in a record year for hotel sales in Australia.
Reflecting the increasing interest of governments around Australia in the industry, Andrew Robb, AO, the Minister for Trade and Investment in the Australian government will also make a keynote address during the events.
Other industry CEO's confirmed to participate include:
Ho Kwon Ping, Founder & Executive Chairman, Banyan Tree Holdings
Choe Peng Sum, CEO, Frasers Hospitality
Michael Issenberg, Chairman and CEO, Accor Asia Pacific
Iqbal Jumabhoy, Managing Director and Group CEO, SilverNeedle Hospitality
Dillip Rajakarier, CEO, Minor Hotel Group
Girish Jhunjhnuwala, Chairman & CEO, Ovolo Hotels
Hubert Viriot, CEO, Yotel
Richard Bailey, President & CEO, Pacific Beachcomber SC
Christopher Hartley, Chief Executive Officer, Global Hotel Alliance
Bruce Wardinski, Chairman & CEO, Playa Hotels & Resorts
Gavin Faull, Chairman & President, Swiss-Belhotel International
Dean Schreiber, Managing Director, Oakwood Asia Pacific
Marc Hediger, Chief Executive Officer, Lanson Place Hospitality Management
Neil Maxwell, CEO, M&L Hospitality
Andrew Heithersay, Managing Director, SC Capital Partners
Tom Wucherer, CEO, YWS International
Mark Wynne Smith, Global CEO, JLL Hotels and Hospitality Group
Thorsten Kirschke, President, Asia Pacific, Carlson Rezidor Hotel Group
Mike Crawford, President, Asia Pacific, Four Seasons Hotels and Resorts
Local CEO's speaking at the events include:
Paul Constantinou, Founder and Chairman, Quest Serviced Apartments
Bob East, CEO, Mantra Group
Rachel Argaman, CEO, TFE Hotels
Barry Robinson, President & Managing Director, Wyndham Hotel Group
Trent Fraser, CEO, Choice Hotels Australia
Richard Doyle, Director, StayWell Hospitality
Zed Sanjana, CEO, Quest Serviced Apartments
John O'Sullivan, CEO, Tourism Australia
Tim Church, Managing Director Head of Real Estate Australasia, UBS
David Gribble, Managing Director Securities Division, Goldman Sachs Australia
Robert Magid, Chairman and CEO, TMG Developments
Julian Clark, CEO, The Lancemore Group
Paul Fischmann, Founder & CEO, 8Hotels
Steven Haggert, CEO, RDG
Simon McGrath, Chief Operating Officer, Accor Pacific
Shane Bulloch, CEO, Anthony John Group
Anthony Hayes, Global Managing Director, AAT Kings
Glen Boultwood, Executive Director, Aligned FM
Peter Wilding, Managing Director, Royal Group Of Companies
Nigel Greenaway, Fund Manager, Eureka Funds Management
"HotelsWorld 2015 will bring together by far the largest, most senior and most diverse cast of industry leaders ever to appear together at an event in this country," HotelsWorld 2015 CEO John Smith said. He added, "The high level of interest in the industry here reflects the prevailing strong conditions and the high level of interest from foreign and local investors, developers and governments."
With more than 400 CEOs and other industry leaders in the audience, and more than 100 eminent global and local speakers on the stage, HotelsWorld will be the place to be in Sydney from 27 to 29 July2015, for people who want to learn about and participate in the world of deals. Real Deals.
For further information visit www.hotelsworld.com.au