News In Brief
Wyndham resort managers honoured at Timeshare Industry Awards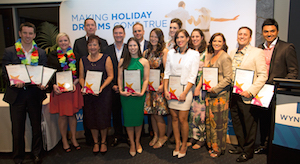 Wyndham Vacation Resorts Asia Pacific received five awards at the Australian Timeshare and Holiday Ownership Council's (ATHOC) National Industry Awards last night.
ATHOC is the representative body for the Australian timeshare industry and the ATHOC awards recognise exceptional performance and contribution within the industry.
General Manager of Wyndham Vacation Resorts Flynns Beach, Suzy Berry was honoured with the ATHOC Award for Resort Manager of the Year at the timeshare industry's 24th annual national awards.
Meanwhile, Gold Coast marketing professional, Erin Kimmince was honoured with the Marketing Performer of the Year award.
The sales team at Wyndham Resort & Spa Dunsborough was also honoured with the Sales Team of the Year award.
Wyndham Vacation Resorts Asia Pacific received the ATHOC Award for Social Media for its Kira Westwick 'Celebrity Chef' social media campaign, which was a collection of videos distributed across YouTube and Facebook, and has been Wyndham's most viewed playlist to date.