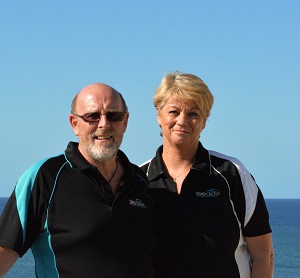 Getting their Mooloolaba on Sandcastles on the Beach "Just come as you are" is the perfect tag line for Mooloolaba.
Located in the heart of Queensland's refreshing Sunshine Coast, the casual and relaxed Mooloolaba is an ideal location to chill out and enjoy a beautiful beachside vacation. The tranquil atmosphere of the Sunshine Coast, its friendly residents and endless scenic beauty makes it an incredible destination for those who want to unwind.
The journey to the award-winning Mooloolaba Beach wows with absolute knockout views of the Pacific Ocean's crystal clear waters. This beach is widely known to be one of the safest swimming beaches on the Sunshine Coast, with the northerly facing patrolled beaches providing protection from the prevailing southerlies and south easterlies that ensure near perfect conditions all year round. Some of the Coast's best dining, shopping and scenic tours are found in Mooloolaba as well as a great range of golf courses in the local vicinity.
Sandcastles on the Beach holiday accommodation is so central that guests can walk everywhere while lapping up views of the beach. This makes for an idyllic stay. It is a superb resort that offers fully self-contained, one-bedroom holiday apartments that include a master bedroom, bathroom, laundry, and kitchen. The top level apartments have private roof-top terraces and barbeques with spectacular views of the ocean – as far as the eye can see.
Sandcastles on the Beach is 23-years-old and has been through some difficult times but its new managers are "looking forward not back". The property is in the secure, competent and positive hands of Bridgette and Charlie Silcock who bought the management rights in March this year. They moved to Mooloolaba from their native New Zealand.
Bridgette has a strong connection to the Sunshine Coast. "My father competed for New Zealand surf team in the 1950s and 60s and my parents made several trips to Queensland for Australian competitions," she says. "As a young girl I remember them talking about the Sunshine Coast and looking at photos of Mooloolaba and noticing how beautiful the beaches were and how blue and inviting the sea looked."
It was, she admits "a dream to come here one day" but it was when their daughter moved to the Sunshine Coast that they "finally got to come here and fall in love with Mooloolaba". They visited regularly for over five years and after a great deal of thought they decided to take the plunge, taking over the management rights of Sandcastles on the Beach.
In New Zealand, Bridgette had worked for American Express for 10 years before moving into sales and marketing for several of New Zealand's major hotels. It was when she was offered the opportunity to work with Quest New Zealand as their national sales manager that she was given "an insight into apartment accommodation". Then she spent eight months managing a 136 apartment Quest complex in Wellington before taking a complete change of direction as the CEO of a National Charity.
After selling his own pre-press business some years ago, Charlie worked as a digital printer for a large commercial company in Wellington specialising in producing top quality individual print marketing campaigns. Bridgette says, "We had talked about our future and decided to explore management rights – a concept that appealed to both of us. We had a look at a few properties in New Zealand before deciding to move to Australia and in particular the Sunshine Coast."
On a recommendation, they contacted Wayne and Linda Stoll from TMR who turned out to be "such a bonus, the perfect choice in agent". Their immense knowledge and experience was invaluable to Bridgette and Charlie, especially during the search and purchase process. "The best thing I can say about Wayne and Linda is that they were so patient while we were getting ourselves together to make the move. It took us two years to get here but they listened to us and did not waste our time by showing properties that did not fit our requirements," Bridgette said.
It is easy to see why Bridgette and Charlie chose Sandcastles on the Beach and it was definitely worth the wait! It sits in the perfect location – just 40 steps to the breathtaking Mooloolaba beach. Bridgette says, "We are the closest accommodation to the patrolled area and to the famous Mooloolaba Surf Club."
In addition to the natural delights of the location, the charming one-bedroom apartment accommodation had been part renovated but there was still room for improvement and growth. Bridgette explains, "The previous owners had done an awful lot of work to improve the visual presentation of the complex and we intend to continue the good work they started.
"One of the first things we wanted to address was the huge variation in the quality and presentation of the apartments; with some still in their original early 1990s condition. Getting the owners on-side to upgrade is an ongoing challenge, while most are open to discussion, others are less inclined to recognise the benefits and increased returns gained by refurbishing their investment apartments."
Since taking over eleven months ago Bridgette and Charlie have been excited to oversee some really excellent refurbishments but there are still a number left to be done. They admit that this has been a steep a learning curve, engaging "the gentle art of negotiating" with owners and the body corporate. Aiming to get the building up to the "visual and practical standard that guests have a right to expect".
It has been rewarding for them to see that the finished apartment refurbishments have been enthusiastically received by new and return guests. A number now making specific requests for particular apartments and passing on their favourite room recommendations on websites such as TripAdvisor.
In fact recent reviews on TripAdvisor for Sandcastles on the Beach have been very enthusiastic about these new owners and their standard of service, "Karen G's" TripAdvisor review states: "Woke up to beautiful views each morning. We stayed in room 406 and it was brilliant, modern and very clean with all the amenities we needed and a roof top balcony. The managers, Bridgette and Charlie would be two of the best hosts we have come across, very friendly and definitely made us very welcome."
Bridgette emphasises how important it is to offer such outstanding customer service. She says, "Our strong focus on excelling to ensure each and every guest feels rested and relaxed during their time with us and leaves happy with a booked confirmation in our system for their next holiday!"
With Bridgette and Charlie so new to management rights and indeed Australia, I asked them what or who had been most helpful to them. Bridgette said, "When you are fresh into the industry, talking to those already in it will soon let you know if it is the right industry for you. We found other operators extremely open and honest and we got some excellent advice from some of the 'older heads' or experienced managers!"
Bridgette would also like to pass on the best advice that they were given, it was: "To ensure both Charlie and I had clearly designated roles based on our individual strengths." They have followed this advice and, according to Bridgette, it has made the transition much easier for them. "I run everything in the office and look after all the administration and marketing while Charlie takes care of all things practical and the maintenance," she said.
So what do they enjoy most about their change in career? Bridgette says, "Other than living in Mooloolaba and having the absolute best that is Australia on our doorstep – it is our guests – seeing them arrive a bit stressed, hot and frazzled and transform once they have checked in, taken their shoes off and got their Mooloolaba on!"
Bridgette and Charlie have certainly "got their Mooloolaba on" as well. This is a couple who are very eager and proactive managers and Sandcastles on the Beach will definitely benefit from this injection of enthusiasm and their fun sense of humour! It is obvious that they have moved here not only to manage a successful management rights business with positivity and zeal but also to make firm friendships, as they see this as the "true reward for the often long and tiring days".