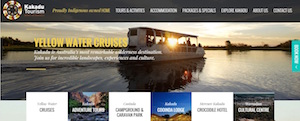 News
Kakadu Tourism launches new website
Indigenous-owned accommodation operator Kakadu Tourism operates a range of accommodation options and tours within Kakadu National Park.
They include Crocodile Hotel (operated as a Mercure hotel), Cooinda Lodge, the Cooinda caravan and camping ground, Yellow Water Cruises, Spirit of Kakadu 4WD Adventures and the Warradjan Cultural Centre.
The website allows live bookings of all activities, while providing special offers for accommodation and tours.
A major feature of the site is its Itinerary planner, with a range of 2, 3 and 4 day itineraries that include both dry season and wet season options, highlighting the vast range of activities and attractions that area available all year round.
A complete resource for travellers planning to visit Kakadu, there is information on Kakadu's best touring options, Kakadu's 'six' seasons and special sections for conference groups, trade and media.
The launch of the new www.kakadutourism.com website complements the creation of new Facebook, Instagram and YouTube websites for Kakadu Tourism.
Kakadu Tourism was formerly known as Gagudju Dreaming.