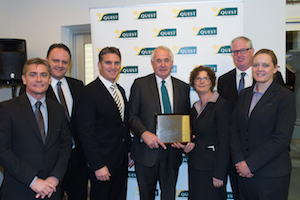 News In Brief
Mayor Antonio joins Tim Horan to officially open the brand new Quest Toowoomba
Mayor of Toowoomba Regional Council Paul Antonio opened the newest addition to the Quest Serviced Apartments network – Quest Toowoomba at 133 Margaret Street in the old Church of Christ building.
Quest General Manager – Brand, Tony Gauci and Quest Toowoomba Franchisees, Cynthia Rice, and Tony and Jenny O'Reilly joined Mr Antonio to celebrate the important occasion, with a cocktail party held at the new property.
Guests were invited to tour the impressive apartments and facilities, and were thrilled to meet local sporting hero Tim Horan, arguably the greatest centre Rugby Union has ever seen.
Mr Antonio formally welcomed guests and congratulated Quest, Mrs Rice, and Mr and Mrs O'Reilly on the opening of the first of three new Quest properties due to open in Queensland in 2015 while thanking the leading serviced apartment operator for its continued investment in this booming economic hub.
"Toowoomba is maturing as a city and we are delighted that Quest has recognised the opportunities on offer here. Our community is very excited to have Quest in Toowoomba and I look forward to our continuing relationship with the Quest group," Mr Antonio said.
"I also want to congratulate all involved in the property's development, blending heritage with a modern facility is never easy but I'm sure you'll agree, it has resulted in a great outcome in this case," Mr Antonio concluded.
Quest General Manager – Brand, Tony Gauci expressed his enthusiasm about the opening of Quest's 15th property in Queensland.
"With the opening of the new Toowoomba airport and the Second Range Crossing on its way, Toowoomba has become a nucleus of activity and industrial development making it the perfect location for the latest Quest development," said Mr Gauci.
"The restoration of the stunning Church of Christ building to its former glory is of significant value to the local community and it's great that Quest can play a role in representing part of Toowoomba's history."
"We couldn't be happier with this location as Quest expands its presence in Queensland and I extend my warmest congratulations to Cynthia Rice and Tony and Jenny O'Reilly for providing the highest standard of service and ensuring we continue to meet the needs of our growing client base," he concluded.
Quest Toowoomba Franchisee, Cynthia Rice, an established member of the Quest family, further highlighted the support of the Toowoomba City Council in the lead up to the opening of the property and thanked them for their support.
"We have been astounded by the support the local community has offered us over these first few weeks, particularly from the business community. We hope to offer guests and the wider community the very best accommodation and service under the Quest banner and we look forward to developing longstanding relationships in the region," Mrs Rice said.