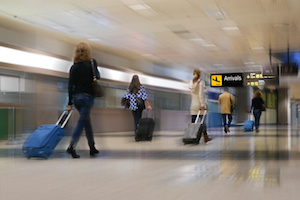 News In Brief
Australian holiday intention is down but for how long?
The proportion of Australians planning to take a holiday in the next 12 months is currently at its lowest point since the beginning of the year.
While overseas travel intention has stayed steady in that time, the Roy Morgan Research Holiday Tracking Survey for the June 2015 quarter reveal that this slump has come about because fewer of us are planning to take our next holiday on home soil.
Currently, 70% of Aussies aged 14+ (or 13.7 million people) are intending to take some kind of trip in the next 12 months, down from 73% in the three months to January 2015, and slightly lower than the same time last year (71%).
Whereas the January 2015 quarter saw 58% of the population intending for their next holiday to be domestic, this has since dipped to 55%.
Meanwhile, the proportion of Australians planning to head overseas for their next holiday (10%) has remained relatively unchanged over the last 12 months.
Angela Smith, Group Account Director, Roy Morgan Research, said: "After starting the year on a very healthy note, intention to take a holiday in the next 12 months has been gradually slipping. Surprisingly, despite the plunging Australian dollar, the proportion of Aussies intending to go overseas for their next trip hasn't changed. Rather, the decline has been driven by softening domestic intention.
"While this probably isn't music to the ears of the Australian tourism industry, it's healthier than it was this time two years ago (68%). By ensuring they have an in-depth understanding of which people are most likely to take their next holiday in which state, regional tourism operators and destination marketers are more than capable of rising to the challenge of this temporary slow-down.
"For example, young couples are considerably more likely than the average Australian to have Victoria and Western Australia in their travel sights for their next trip, while older folks are well above average when it comes to the ACT, the Northern Territory and South Australia. Queensland is especially popular not only among young families, but also young singles.
"Of course, targeting holiday-makers on the basis of particular interests is another way of potentially boosting travel to a region."