News In Brief
Radisson Blu Hotel Sydney unveils "New Blu" re-design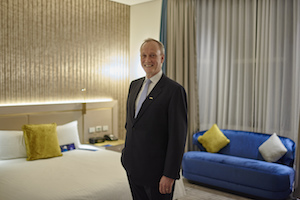 Radisson Blu Hotel Sydney has unveiled the first phase of its $12 million re-design, the first major update of its guest rooms and function spaces since it opened in 2000.
"Reminiscent of New York's famous Flatiron building and occupying a landmark position in the heart of Sydney on the corner of Pitt, Hunter and O'Connell streets, the Radisson Blu Hotel Sydney is a stylish five-star hotel housed within a stunning heritage-listed building dating back to 1856," the property said in a statement.
This Beaux-Arts design building was once the headquarters of the Fairfax newspaper empire and then in 1954 became home to the Bank of New South Wales, now known as Westpac. The property was purchased by Malaysian entity, TA Global in 1997 and completely reconfigured over a three year period. It opened in July 2000 as the Radisson Plaza Hotel, managed by Carlson Rezidor Hotel Group, retaining the stunning architectural features.
This latest re-design follows a transformation of the public spaces including reception, concierge, the lounge and the hotel lobby's Fax Bar which took place in 2010.
"The first phase of the 'new Blu' re-design is focused on the function and meeting rooms, which have been refreshed and modernised and provide more than 500m2 of space, ideal for corporate business meetings, board meetings, social events, private dinners or cocktail functions from two to 200 guests.
"The meeting spaces also include two authentically restored heritage rooms named Sir James and Sir Warwick which once housed their offices. These are used mostly for board meetings and exclusive dinners. The Lady Fairfax room, located on the entry level, is now popular for its high tea service but can also serve as an event space."
The second phase of the re-design, due to commence in late October, will see a complete refresh of all 336 guestrooms and 28 suites at Radisson Blu, with new silk fabrics and contemporary chrome and metal-blue colour schemes, stylish chevron patterning reflected in the lighting and upgrades to the fittings in the building's original marble bathrooms. The Presidential Suite will be divided into two rooms, bringing the total number of guestrooms to 364.
Sydney architects Bates Smart have been appointed to undertake the re-design for Radisson Blu. Bates Smart worked on the recent refurbishment of the Intercontinental Sydney Double Bay and the Mayfair Hotel in Adelaide.
Radisson Blu General Manager, Peter Tudehope said: "This $12 million investment will cement Radisson Blu's position as one of the leading five-star hotels in Sydney."