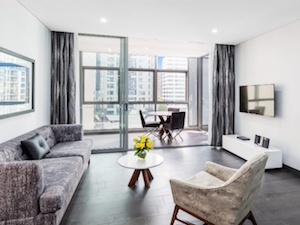 News
Meriton opens first hotel in Sydney's north
Australian serviced apartments operator Meriton has today opened its 14th apartment hotel and first in Sydney's North.

Located in Chatswood, the tower designed by PTW architects spans 33 stories high, featuring one, two and three bedroom suites plus first class recreational facilities.
"With the opening of our newest apartment hotel our serviced apartment's collection has increased to over 3,800 apartments (5,200+ rooms) in what is our 12th year of operation. Showing that both local and international markets are enthralled with what our product offers" said national manager Matthew Thomas.