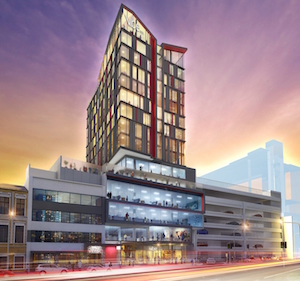 Toga Far East (TFE) Hotels has secured the operating agreement for a new Vibe Hotel as part of a mixed-use development in the Hobart CBD in Tasmania, due for completion in 2017.
Developer, Raadas Property has obtained Development Approval for a 15-storey redevelopment of 36 Argyle Street, which is currently an open air carpark opposite Royal Hobart Hospital and Hobart Private Hospital. The proposed development incorporates a ground floor of retail and hospitality space, four floors dedicated to commercial offices and ten floors for approximately 120 rooms and suites, facilities and conferencing.
Raadas has appointed TFE Hotels to operate the hotel under its Vibe Hotels brand and consult with Hobart-based Xsquared Architects on design. Construction is expected to commence in 2016.
In creating a 4.5-star hotel on the central CBD site, Raadas Property is looking to capitalise on the Tasmanian Government's push to attract more tourism to the State. Raadas Property Managing Director Richard Doedens said he is delighted to have TFE Hotels on board with the development.
"It is pleasing to say this project is one step closer to commencing construction now that we have appointed TFE Hotels," said Mr Doedens.
"TFE Hotels is an owner and builder of hotels, as well as a hotel management company on behalf of owners, so they know better than anyone what's required to make a development like this work".
"The Vibe Hotels lifestyle brand is an excellent choice for this location and the style of hotel we want to create. It is an exciting and progressive hotel concept that will connect guests to the local surroundings and add to the revitalisation of Hobart's CBD," Mr Doedens added.
TFE Hotels' agreement with Raadas Property will result in its first Vibe hotel for Tasmania and its third hotel in the State capital, joining Travelodge Hobart and Travelodge Hobart Airport. It is also within a short walk of retail and café precincts, the Hobart waterfront, the state and federal government departments and some of Hobart's largest corporate premises, in addition to being directly opposite Hobart's main public and private hospitals.
"We have a real opportunity with Vibe Hotels to deliver an experience that encourages a deeper connection with the destination and travellers to make unique discoveries, complementing the City of Hobart's efforts to attract business and leisure tourism to the city.
"As designs continue to take shape, we're excited at this project's potential and are looking forward to a development that fully capitalises on this unique CBD location."
Incorporated in the Argyle Street development are four floors of commercial office space, which is being marketed by Knight Frank in Hobart.
CEO of Knight Frank Scott Newton said the office space is in a prime location and would be highly desirable for a variety of professional and business tenants including medical practitioners and medical related businesses.
"Given the proximity to the Royal Hobart Hospital and Hobart Private Hospital, the commercial floors would be ideal for medical professionals associated with the hospitals and patients," said Mr Newton.
"Several floors have been designed to accommodate consulting rooms as well as the option for a day surgery facility."