News In Brief
Airbnb opens new Sydney Office with AFL pitch and swinging bookcase entrance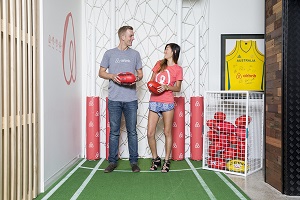 Heading up the sharing economy firm's growing Australian operation, this Sydney office boasts an entrance that resembles an AFL football field complete with nets and goal posts, and a secret meeting room concealed behind a bookcase.
Local Sydney designers The Bold Collective were commissioned to design the space, which is the latest sign of Airbnb's gaining popularity among travellers in Australia.
Airbnb Australia country manager Sam McDonagh said: "At Airbnb we want to create the sense of travel when we welcome people into our office. Simply having photos of listings and far off places is not enough, we want our employees and guests to experience the feeling you get when you travel.
"We've achieved this in all of our offices by creating rooms that are inspired by the most unique places you can stay at on Airbnb. In our Sydney office, each room from Havana to Kangaroo Valley, not only celebrates our global community, but also lets everyone who visits them truly experience a different place."