News In Brief
Only 29% of hotels are fully leveraging guest intelligence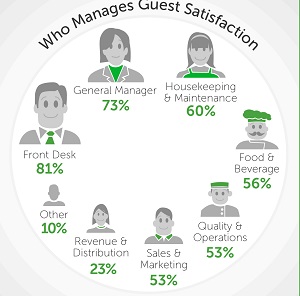 Increasingly, savvy hoteliers are using guest feedback to make operational and service improvements on property to deliver better guest experiences. ReviewPro, leaders in guest satisfaction improvement, recently surveyed 2,877 hospitality professionals across the globe to gain a better understanding of how hotels manage guest satisfaction and to highlight current trends in the industry related specifically to guest survey management.
The findings of the 2016 Guest Satisfaction Management Barometer, the first edition of this industry study, provide some eye-opening insights that could help hotels identify gaps in their current guest feedback management strategy. Although the majority of hotels are already active in this area, the poll indicates there is a clear opportunity for hotels to implement the latest technologies and best practices to manage and act on guest intelligence more effectively, to be able to exceed expectations and improve their online reputation.
Key findings of the study include:
• 94% of hotels feel that it is important to be able to integrate guest survey data with online review analytics but only 29% of hotels are doing so.
• 67% of hotels feel that it is difficult to manage feedback across multiple sources.
• 57% of hotels set & monitor guest satisfaction KPIs but only 41% offer staff incentives/bonuses based on these.
• 77% of hotels are planning to invest the same or more in guest survey management in 2016.
• 51% of hotels are using electronic guest surveys to gather direct feedback but only 14% are using in-stay email surveys, which enable hotels to carry out valuable service recovery.
• 23% of hotels use the Net Promoter Score® (a powerful metric to benchmark guest satisfaction) when analyzing the results of their surveys.
RJ Friedlander, CEO of ReviewPro, commented on the study, "It is clear from the findings that increasing guest satisfaction is vital for hoteliers. To do this successfully, they must have access to actionable insight to be able to make improvements where is matters most. This is why we are 100% focused on helping hotels boost satisfaction and are continuing to innovate and invest in the area of online reputation management and guest surveys. We have developed the most powerful, yet reliable Guest Intelligence platform available. By providing customizable views, reporting and alerts tailored for different departments, we empower any hotelier to better focus and prioritize on operational and service improvements. The results have been astounding in helping hotels create a guest-centric culture to deliver excellence, giving rise to increased guest satisfaction and revenue."