Tourism
Jetstar boosts Sunshine Coast services with new Adelaide flights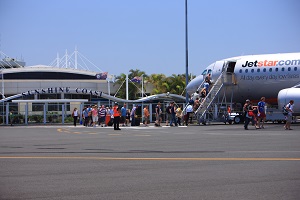 Sunshine Coast Airport is set to become the destination of choice for even more passengers with Jetstar to launch direct flights from Adelaide to the Sunshine Coast three times a week from September this year.
Services between Adelaide and the Sunshine Coast will commence on September 30, 2016 operating Wednesday, Friday and Sunday each week.
To celebrate the launch, Jetstar is offering special one-way launch fares today from $69* (on sale from 10:00am-Midnight AEST), for select travel periods. Regular one-way lead-in fares on the route are available from $135*.
Sunshine Coast Deputy Mayor Tim Dwyer said the new services would contribute further to Sunshine Coast Airport's record performance over the past year, with Commonwealth Bureau of Infrastructure and Regional Economics (BITRE) confirming that Sunshine Coast Airport had been the fastest growing major airport in the country for eight consecutive months, recording 17% year-on-year in March on the back of 25% growth in February**.
Mr Dwyer said the Sunshine Coast was looking forward to welcoming more South Australian visitors to the region.
"This is a tremendous show of support for our region from Jetstar and we can't wait to see more South Australians enjoying their holidays here and it also provides an opportunity for locals to sample the delights that South Australia has to offer," Mr Dwyer said.
The services add an additional 56,000 seats between the Sunshine Coast and Adelaide each year.
Jetstar Airways Head of Commercial and Operations Improvement, Carly Povey, said direct Sunshine Coast services from Melbourne and Sydney were performing well and she was confident the new Adelaide-Sunshine Coast service would be similarly well supported.
"The Sunshine Coast is one of our most popular leisure destinations and we're sure Adelaide holidaymakers, as well as Queensland tourism operators, will warmly welcome today's announcement that a low fares airline option is now available on the route," Ms Povey said.
Visit Sunshine Coast acting CEO Simon Latchford said Jetstar had been a strong partner of the Sunshine Coast and was confident the Adelaide route would prove to be a major success.
"The South Australian market offers tremendous opportunities for a destination such as the Sunshine Coast, with our year-round attractive climate and vast range of events," Mr Latchford said.
"Our strategy has been to diversify our market base as widely as possible, and the start of direct Jetstar services from Adelaide complements significant growth in direct services from Sydney, Melbourne and across the Tasman."
Adelaide Airport Managing Director Mark Young welcomed today's announcement by Jetstar on the introduction of a direct Sunshine Coast service.
"It's really pleasing to see Jetstar continue to expand its network out of Adelaide. South Australian's will now be able to easily access the Sunshine Coast, while we also expect there will be plenty of Sunshine Coast residents who want to experience what Adelaide has to offer including our world class wine and seafood.
"The service will also connect the significant number of friends and families who live in the two regions," Mr Young said.