Technology
What is an online payment gateway: the basics for small hotels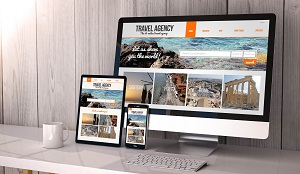 Accepting online reservations is necessary, but you also need to have a safe and secure online payment gateway to make it work.
While travellers prefer the ease and convenience of booking online, they also want to make sure that they are working with a reputable vendor who will keep their personal, financial information secure.
So, what is an online payment gateway?
Put simply, an online payment gateway is a system that works with your booking engine in order to allow you to process secure payments online.
It will authorise credit card information of customers who want to make their reservations instantly on your website.
Why would it benefit your small hotel?
An online payment gateway is necessary for any type of hotel, no matter its size.
Today's travellers prefer to book their accommodations online — and you need to make it as easy as possible for your guests to book out rooms at your bed and breakfast.
What should you look for in an online payment gateway?
As a small hotel operator, there are several features you need in an online payment gateway:
Consistent and Reliable Service
The experience of processing an online payment should be effortless for your guests. They should not even be aware that an online payment gateway is being used.
It's essential that you work with a gateway that connects with your booking engine and works with it properly.
You want your customers to be able to book their rooms at your hotel without having any issues during the online payment process.
Security
This is of utmost importance when it comes to choosing an online payment gateway.
A study by Trustwave's SpiderLabs showed that of 218 data breach investigations from 24 countries, 38 percent of the attacks occurred on hotels and, of the data stolen, 98 percent was credit card information.
Your guests are entrusting you with their most personal and private financial information, and it's critical that you protect them at all costs.
It's not enough to have an SSL certificate on your website, or rely solely on third-party payment services such as Paypal or Google Checkout to handle your guests' credit card security. Each program you use must be securely locked down.
Discuss data storage techniques with your online payment gateway in order to be sure that your valued customers' information will be safe and secure at all times.
Customer Support
It's essential to have a positive working relationship with the support team at the online payment gateway that you choose.
They should be available to assist you in the event of an unforeseen circumstance or if any issues arise.
Currency Conversion
People from all over the world will want to book your rooms, especially when they can do it easily online.
Choose an online payment gateway that will convert any currency without charging you excessive fees to do so.