Developments
Quest breaks ground on first of three new Brisbane developments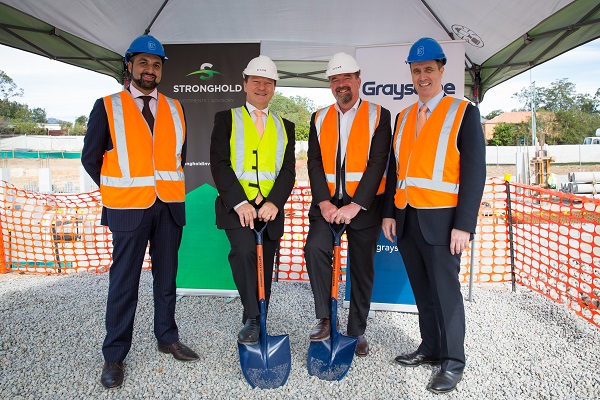 Graystone has turned the sod on the $21m development of Quest Eight Mile Plains; one of three brand new developments in Quest's Brisbane pipeline, which will add more than 270 rooms to the market.
Located within Queensland's premier business park – Brisbane Technology Park, just a 12-minute drive from the Brisbane CBD, Quest Eight Mile Plains will feature 90 apartments – a mix of studios and one, two and three bedroom apartments. It will generate significant local job opportunities during construction, and ongoing full-time, part-time and casual roles once the property opens in August 2017.
Quest CEO, Zed Sanjana was onsite for the turning of the sod, joined by Federal Member for Moreton, Mr Graham Perrett MP, and representatives from Graystone, Stronghold Investment Management and Benlee Company.
"Growing our base in Brisbane is a key priority for Quest with three properties in the pipeline for the next two years – Eight Mile Plains, Springfield and Cannon Hill," said Mr Sanjana.
"Visitor numbers to Brisbane continue to increase year-on-year, with Tourism and Events Queensland recording annual growth of 7.4% to the year ending March 2016. Brisbane is making its mark on the global stage and we want to ensure we are ready to accommodate our valued clients across all key hubs within the thriving city."
"Brisbane Technology Park is home to over 150 national and multi-national companies working across the biotech, health and medical, mining, communications, electronics, and software development industries. This location is ideal for Quest and we look forward to providing these companies with high-quality accommodation for their visiting employees and clients," he concluded.
Executive Director of Graystone, Bruce Anderson reaffirmed the importance of the business park to the State's economy and how the new Quest property would be a significant asset once up and running.
"A business traveller apartment hotel has held top spot on our Brisbane Technology Park occupants' wish list for a number of years, and we are pleased to be able to deliver this additional amenity to the Park. The Quest Apartment Hotel facility will complement our Conference Centre and provide an onsite accommodation solution for our occupants' interstate counterparts and clients," said Mr Anderson.
Executive Director of Stronghold Investment Management, Steve de Nys echoed Mr Anderson's sentiments, while highlighting the ongoing employment opportunities which the development will deliver.
"Stronghold and Benlee are delighted to be involved in this project. In addition to providing an attractive return to our investors and further enhancing the amenity of Brisbane Technology Park, this project will provide employment, contractor and supplier opportunities over the short, medium and long term, something all involved should be very proud of," said Mr de Nys.