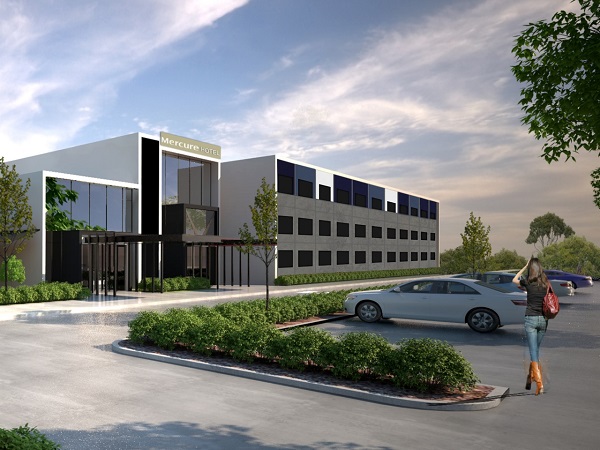 Developments
New-build Mercure Tamworth hotel to open in December
Tamworth's accommodation sector is set for a boost following the announcement from AccorHotels that a new-build Mercure hotel is scheduled to open in December 2016.
The three-storey, 52-room Mercure Tamworth hotel is currently under development at the West Tamworth League Club on Phillip Street.
The internationally-branded midscale hotel will be located within the Club's precinct which includes entertainment venues, a stadium, food and beverage outlets, gaming and conferencing facilities. Hotel guest facilities also include a swimming pool and gymnasium.
Chief operating officer, AccorHotels Pacific, Simon McGrath said, "We're delighted to bring the Mercure brand to Tamworth in partnership with Wests Entertainment Group. We enjoy partnering with clubs as there is ample spare land to build new accommodation and support the existing club facilities to benefit members and the travelling public.
"We are confident that the Mercure hotel will provide much-needed new hotel supply for Tamworth and help drive the corporate and leisure visitor economies in regional NSW. Once operational, there will be up to 35 new employment opportunities for local residents and those looking to move to the country music capital. We look forward to welcoming the first guests to Mercure Tamworth in December," said Mr McGrath.
CEO, Wests Entertainment Group, Rod Laing, said "We are excited to add accommodation to our portfolio and partnering with AccorHotels will ensure the success of this new venture. Employment opportunities along with the additional beds the hotel will provide to the city of Tamworth will in turn boost the local economy. The Group has been a part of Tamworth for over 50 years and consists of two clubs, Wests and Wests Diggers and the newly built boutique stadium, Scully Park. We look forward to the grand opening later this year".
Mercure Tamworth is located 12kms from the main regional airport and five hours drive north of Sydney.