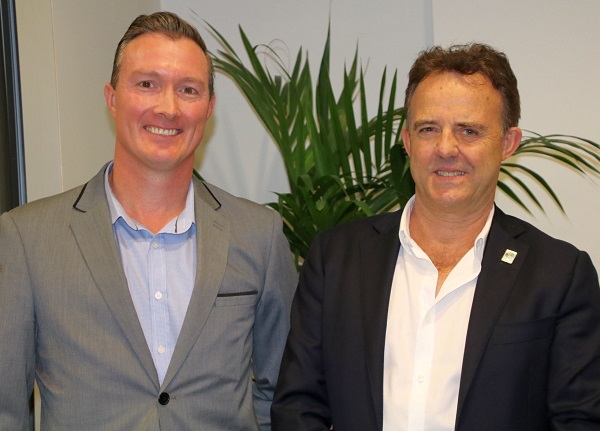 News
Mantra Group partners with Visit Sunshine Coast
The organisations have formed a 12-month business partnership agreement to attract more visitors to the region.
Visit Sunshine Coast CEO Simon Latchford and Mantra Group regional general manager Winston Hall signed the deal at a business breakfast at Mantra Mooloolaba Beach, marking a new era of partnership between the two organisations.
With an emphasis on marketing, the agreement will see the Mantra Group and the regional tourism organisation work cohesively on strategic planning and joint campaigns that will be supported through cross-promotion, public relations, social media, business events and trade activities.
Mr Latchford said he was extremely pleased to join forces with the accommodation group through a formal agreement.
"We look forward to working together to further enhance the Sunshine Coast's reputation," said Mr Latchford. "Visit Sunshine Coast is all about the power of partnerships and continuing the momentum of the recent tourism boom to deliver bigger benefits for the Coast.
"Both Visit Sunshine Coast and Mantra Group want the same thing – a strong tourism industry that makes the Sunshine Coast a first choice for holiday and business visitors. With domestic tourism on the rise and the return to strength of the drive market it's the ideal time for us to join forces.
"We are excited by the shared resources this agreement brings together and the opportunities that lie ahead to grow visitors and increase regional dispersal particularly through Mantra Group's portfolio of properties across the region," said Mr Latchford.
"This new agreement builds on the marketing we already do and our partnerships with Sunshine Coast Council and Tourism and Events Queensland and other local operators to promote the Sunshine Coast."
Mantra Group regional general manager Winston Hall added that the group is thrilled to formalise its long-standing relationship with Visit Sunshine Coast.
"The mutually beneficial partnership will utilise both organisations' extensive resources to cooperatively promote the region, enhance the visitor experience and secure new business.
"With seven resorts on the Sunshine Coast, Mantra Group is a quintessential component of the region's tourism offering and fully supports the effective efforts of Visit Sunshine Coast to increase awareness and grow visitor numbers in one of Australia's most inspiring travel destinations," Mr Hall said.
Mantra Group have seven properties across the Sunshine Coast including:
Mantra French Quarter, Noosa
Peppers Noosa Resort & Villas, Noosa
BreakFree Alexandra Beach Resort, Alexandra Headland
Mantra Mooloolaba Beach, Mooloolaba
Mantra Sirocco, Mooloolaba
Mantra Zanzibar, Mooloolaba
BreakFree Grand Pacific, Caloundra
VSC and Mantra Group have collaborated on smaller projects and campaigns over the past six months, including a digital winter campaign.