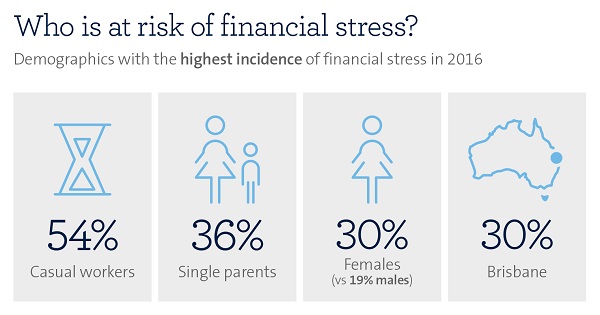 News
Brisbane, accom workers under more financial stress than health care professionals
New research, undertaken by AMP for its 2016 Financial Wellness Report, reveals that financial stress is now a fact of life for more than one-in-four Australian workers.
The key findings from the research were as follows:
Financial stress is highest in the accommodation and food services industry, with 35 percent of employees stressed. This is followed by healthcare and social services (32%) and administration and support services (31%). Twenty-six per cent of employees in retail jobs say they are financially stressed.
Brisbane is the most financially stressed city in Australia with 30% of workers financially stressed. This is followed by Adelaide (25%), Perth (23%), Sydney (20%) and Melbourne (19%).
The main triggers for financial stress are bad debt, mortgages and bills.
30% of females experience financial stress compared to 19% of males.