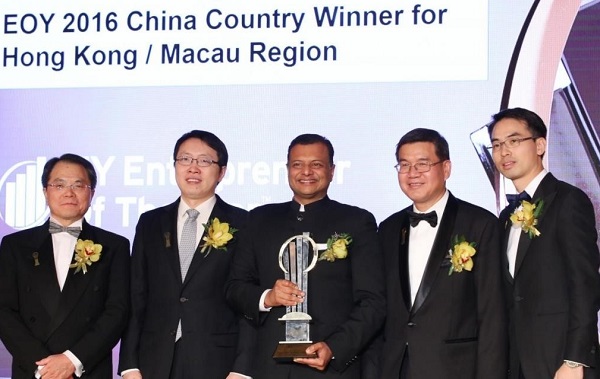 Girish Jhunjhnuwala has achieved the regional win for innovation and disruptive approach to hospitality.
With its 10th anniversary celebrating the theme "Seizing opportunities to drive reform and innovation", Mr Jhunjhnuwala demonstrated a series of achievements in modern hospitality through a customer-centric perspective that was a first of its kind both within and outside of the region. After a five-month process involving interviews, business performance analysis and multiple judging panels, Mr Jhunjhnuwala was chosen from a pool of several successful entrepreneurs thanks to his vision, leadership and sense of social responsibility to win.
Mr Jhunjhnuwala's founded the Ovolo Group over 14 years ago with the mission to disrupt the hospitality industry. Launched as the first owner/operator hospitality brand in Hong Kong, Mr Jhunjhnuwala had a goal of creating a brand that made accommodation as effortless and inclusive as possible for the digitally-minded modern traveller. Originally founded as a serviced apartment business, Ovolo soon shifted its focus to the hotel sector. Within a few short years, Ovolo grew from its flagship property at 2 Arbuthnot Road (Ovolo Central), into what is today a portfolio of eight award-winning hotels and two serviced apartments across Hong Kong and the Australian cities of Melbourne and Sydney.
Discussing what makes entrepreneurs like Mr Jhunjhnuwala stand out, Mr CK Lai, EY EOY 2016 China co-chairman and EY assurance partner noted: "Successful entrepreneurs are those who can actively respond to external changes, continuously make breakthroughs in addressing challenges, ride trends, and seize momentous opportunities to achieve strategic growth."
Sharing his thoughts on the win, Mr. Jhunjhnuwala said: "Words can't express how honoured I feel in winning this award. I see it as validation for the tireless mission and vision I set out to achieve with Ovolo. As an ethnic minority, winning this award for the Hong Kong / Macau region carries extra meaning. And if there's one thing I would say to any young minority out there, it's that anything is possible. Just be positive, be patient, and don't procrastinate