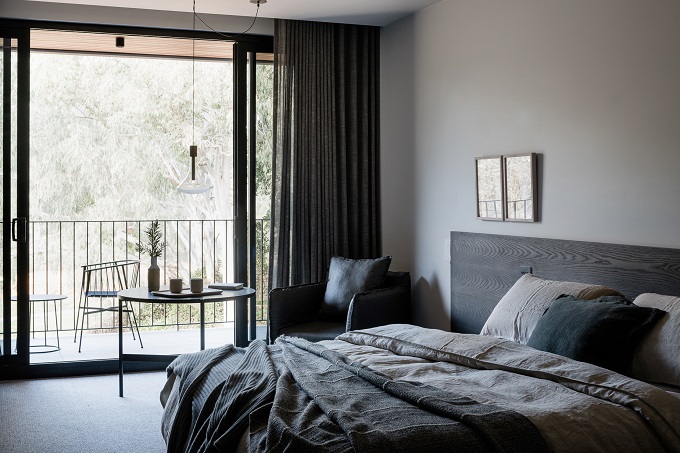 Opening December 1 in the Victorian countryside near Nagambie, The Mitchelton Hotel and Spa provides laid back luxury for the region just 90 minutes' drive from Melbourne.
A personal project of caravan magnate Gerry Ryan and his son Andrew, the $16 million Mitchelton Hotel and Spa is the most recent addition to the family's spectacular Mitchelton Winery Estate, set on the banks of the Goulburn River.
Initially planned for construction upon the property's founding in 1969 – a vision never realised due to budget constraints – the striking new facility was conceived in partnership with internationally renowned architecture and interior design firm Hecker Guthrie to complement the property's existing Robin Boyd structures, while paying homage to its rural location and wine producing background.
Developed to enhance the tourism drawcard for the region, the Mitchelton Hotel's 58 rooms is comprised of the 33-sqm 'River' or 'Vineyard' view categories through to the four 57-sqm suites. Featuring spacious rooms adorned with earthy tones, the hotel was designed to have a relationship with its countryside setting and, in particular, the horse studs around Nagambie. Further drawing on this connection, the hotel features works by Melbourne photographer Trevor Mein, commissioned specifically for the space.
'The Hotel and Day Spa is something that we wanted to develop early on with our acquisition of the estate,' said Andrew Ryan, Managing Director of the Mitchelton property.
'It has always been the missing piece in the puzzle for Mitchelton. Goulburn Valley and Nagambie have so much to offer, we have high hopes that the addition of the accommodation facility will help attract more visitors to the region and boost local tourism.' said Ryan.
The tribute to the area and its landscape continues inside the hotel. In guest rooms, floor to ceiling windows open onto private terraces with expansive views of the Goulburn River or Mitchelton Vineyard. Whilst inside, details of the linen curtains, timber joinery, Trevor Mein & David Band artworks create a soft, warm space for guests to unwind.
The Spa, with its expansive views of the surrounds, offers guests regionally inspired spa experiences developed using Uspa products – an Australian collection of pure, natural skincare that combines the botanical wisdom and healing elements of nature.