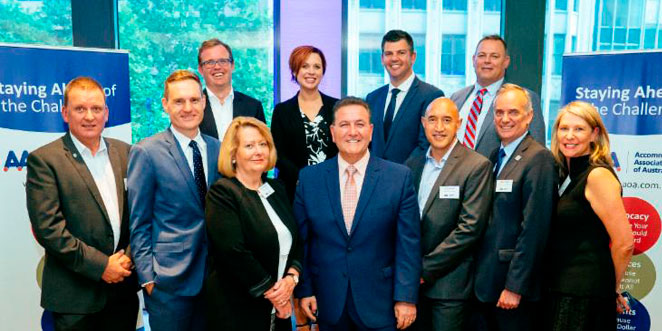 News
New Victorian state advisory board
The Accommodation Association of Australia establishes a Victorian State Advisory Board.
 The board, which was formally launched by the Minister for Tourism and Major Events, John Eren MP, is made up of representatives from Accommodation Association member properties in metropolitan Melbourne and regional parts of Victoria.
"The Accommodation Association of Australia's Victorian State Advisory Board is a new initiative which is designed to ensure the interests of our Victorian-based members are more specifically catered for," said the Association's chief executive officer, Richard Munro.

"Victoria has had an outstanding record promoting tourism and major events for almost three decades, no matter which of the major parties has been in government.

"The Andrews Government has continued this support and investment, and we look forward to members of the new Victorian State Advisory Board continuing to work closely with Minister Eren and other key tourism industry stakeholders for the benefit of the accommodation industry."
 The Chair of the new Victorian State Advisory Board is Mr Adrian Williams, Vice President of Operations – Victoria, Tasmania and South Australia, AccorHotels, a member of the Victorian Tourism Industry Council's Accommodation Advisory Panel and the Melbourne Convention Bureau Board.
 "Adrian is one of Australia's leading young hotel executives and he has a great understanding of coordinating with other members, tourism industry leaders and, importantly, key government stakeholders," Mr Munro said.

"There is potential for further growth of Victoria's accommodation industry, but for this growth to be realised, it's vital for operators of accommodation businesses to play an active role in policy development processes which directly impact on the industry."
 At the launch, the Accommodation Association formally recognised the decision made by the Andrews government to ensure hotels, motels, serviced apartments and other tourism accommodation businesses were not captured by changes to stamp duty on foreign purchasers.
 "Given the revenue implications for the government, it was a difficult decision not to proceed with a 'virtual hotel investment tax', but by not proceeding, it has helped to preserve and increase the level of investment in the accommodation industry and the industry is very grateful for this," Mr Munro said.
 Members of the Accommodation Association Victorian State Advisory Board:
Chair – Mr Adrian Williams, AccorHotels
Mr Julian Clark, Lancemore Group (and President, Accommodation Association of Australia)
Mr David Brown, Wyndham Vacation Resorts Asia Pacific
Ms Carol Douglas, TFE Hotels
Mr Doug Flavell, Mantra Group
Mr Iain Gunn, Comfort Inn Capital, Horsham
Mr Anthony LoGiusto, Brady Hotels
Ms Catherine Mapperson, Quest Apartment Hotels
Mr Brett Salter, ALH Group
Ms Michelle King, Accommodation Association of Australia