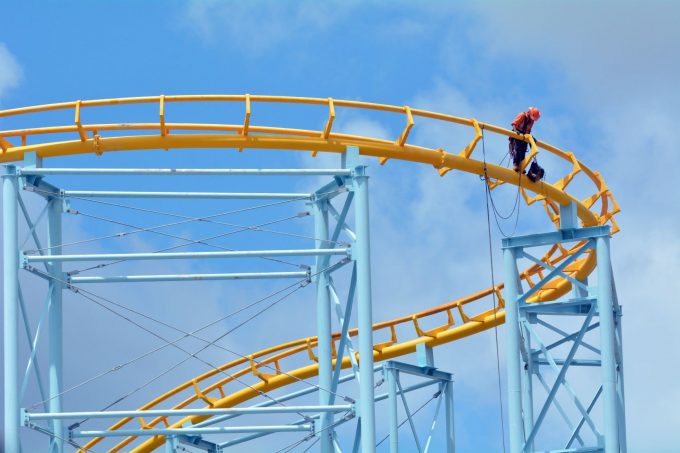 A $281 million loan has been secured by Ardent Leisure Group, owners of Dreamworld, to help put the Gold Coast theme park's finances back into the black.
Australia's largest theme park has struggled financially since a horror accident on the Thunder River Rapids ride which killed four people in 2016.
The inquest into the accident savaged the reputation of the park, heavily criticising training, emergency procedures and attitudes to maintenance.
Staff admitted there had been a "total failure" to identify risks with the ride despite several 'red flags', Ardent spokesperson Gary Weiss issuing a statement expressing "remorse and deep regret" over the accident.
The tragedy prompted a major overhaul of theme park safety across Queensland.
The Sydney-based Ardent Leisure Group, which recorded a net loss of $21.8 million loss for the first half of this financial year following an $86 million loss last year, this week announced the completion of the new $281 million term loan facility.
The loan will be secured and guaranteed by its US-based parent company, Main Event Entertainment, and is non-recourse to Ardent's other assets, including Sydney's SkyPoint theme park, Whitewater World on the Gold Coast and a growing US portfolio.
The loan allows Ardent to pay off its existing Australian bank debt and provides longer-term funding designed to drive its theme parks' profitability and support the development of new Main Event ventures.
"Essentially it allows us to proceed with our master planning process with a little more confidence and that will mean identifying what happens in the next five to ten years for Dreamworld," said Ardent CEO John Osborne.
"I'm really pumped about making sure we get back to a profitable situation and the refinance gives us the opportunity to start making some announcements in the very near future."
Ents giant takes on Lane Cove
US funds will also be involved in the expansion of NSW National Parks and Wildlife Services' Lane Cove River Tourist Park.
Delaware North has been chosen to operate the popular city park, to be renamed Lane Cove Holiday Park, which currently boasts 156 powered and 48 unpowered camp sites, retail and laundry facilities, 28 cabins and one glamping tent.
Located just ten kilometres from Sydney's CBD, the park has undergone an extensive flora regeneration and habitat creation program under the wildlife service.
Delaware North has secured a 30-year lease which includes provision for new glamping tents and cabins and improvements to guest amenities, as well as see the introduction of a new café and upgraded recreation and retail facilities.
Managing Director Gary Brown said the company was honoured to have been selected by the service from a field of competitors.
"Lane Cove Holiday Park has established a great reputation among the tourism, caravanning and camping community for its many outstanding services, excellent facilities, and of course its sensational proximity to Sydney and the picturesque northern beaches," he said.
"To have been awarded the opportunity to operate and make further investments in this great facility is a real privilege for us, and we look forward to applying our years of experience running similar facilities in Australia and national parks in the United States to our stewardship of Lane Cove Holiday Park."