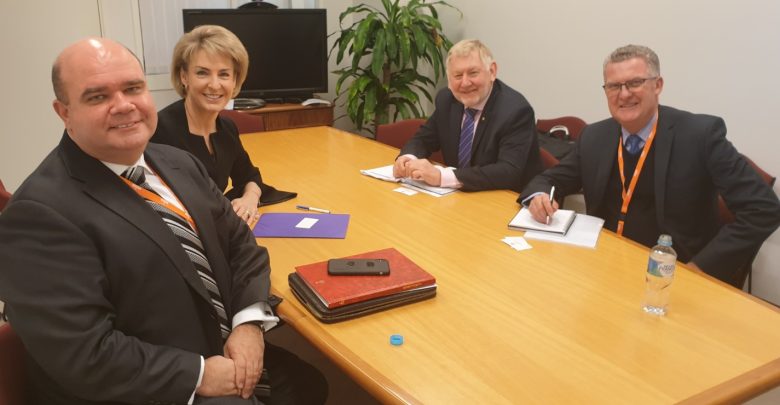 Tourism Accommodation Australia chiefs travelled to Canberra this month for a meeting with Michaelia Cash, federal minister for skills and vocational education, to discuss the sector's recruitment issues.
TAA's national CEO Michael Johnson and chair Martin Ferguson and Bradley Woods, chief executive of the Australian Hotels Association for WA, discussed with Ms Cash how to address labour shortages and entice more quality candidates into the industry.
"The skills shortage and VET programs currently under review were a major topic of conversation," Mr Johnson said.
"We had a lengthy discussion with the minister – who gave us a good hearing.
"TAA is already working on long-term options to address the skills shortage. As the industry's peak accommodation body we will continue to drive this issue in coming months."
Mr Johnson's travels also extended to Tasmania this month, where he attended the 2019 Tasmanian Hospitality Association and Drysdale Awards for Excellence recognising the best in Tassie hospitality.
The TAA chief said the accommodation hotel winners were not just standouts in Tasmania but renowned on the mainland.
"Hotels like the multi-award-winning luxury lodge, Saffire Freycinet in Coles Bay and Maryland Lodge in Hobart are innovative, world-class hotels which are drawing tourists into Tasmania from across the country and beyond," he said.
"I congratulate them, and all the other winners, on a job well done."
Tasmanian Hospitality Association CEO Steve Old says the Apple Isle's association is unique in representing the "whole of the hospitality industry" with an awards process that encompasses the entire industry – whether a member or not.
"The awards night showcases how important this iconic industry is to the Tasmanian economy – and tourism in general – with more than 22,000 people employed in hospitality in this state," he said.
Industry leader Don McQuestin was awarded Tasmanian Hospitality Association Life Membership for his services to hospitality, while Angelo Fraraccio took out the prestigious Bertie Tucceri Award for service to the restaurant industry and Hamlet Café received the Premier's Award for contribution to the community.
Australian Hotels Association National CEO Stephen Ferguson congratulated all finalists and winners.
"Tasmanian hotels really are among the best in the business and this was on display here again at the Awards," he said.
"From Hobart right through to the regions, hotels across the entire state set a high standard and I would like to congratulate all finalists."
The winners will go on to the National Australian Hotels Association Awards for Excellence on the Gold Coast on September 9.