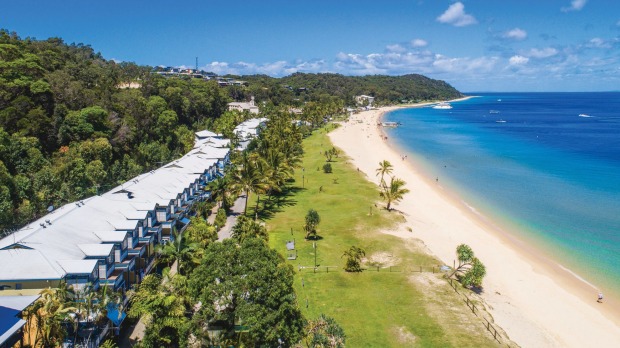 More than 50 tourists at a premium Queensland holiday resort have been struck down with vomiting and diarrhoea from water allegedly contaminated by unknowing guests.
The outbreak at the luxury island resort of Tangalooma on Morton Island off the Brisbane Coast has seen dozens succumb to gastroenteritis and resort staff issuing bottled water and warning visitors not to drink, bathe children or wash their teeth using the resort's affected water supply.
Queensland Health tests returned a positive result for the E coli bacteria on November 2, prompting state premier Annastacia Palaszczuk to act.
"I am very concerned to hear those reports and I do believe that Tangalooma Resort does have a duty of care to people who are actually staying in their resort," she said.
"I have asked my director-general to immediately send a public health expert over to the island to conduct an examination."
Guests have since been urged to take precautions such as boiling their water and buying bottled water while ongoing tests are being conducted on the underground aquifer.
The resort has spent the week attempting to contact some 3000 recent stayers regarding the outbreak, although some have complained to local media about the slowness of the response.
One couple who fell ill told the ABC they were yet to receive a call, and others claimed that as holidaymakers staying elsewhere on the island, they were not informed about the risks until some 24 hours after guests.
A resort spokesperson blamed the outbreak on guests who contracted the disease before their visit to Tangalooma.
"There have been a number of cases we are aware of where guests have arrived to the resort recently with what appears to be viral infections consistent with Gastroenteritis, that was contracted prior to arrival," the resort said a statement.
"Queensland Health have informed us that they do not believe that the source of this illness is food-borne."
The water supply will be flushed or treated over several days and then monitored to ensure it is safe to drink.
Metro South Health public health physician Kari Jarvinen told The Guardian: "It is a private water supply that is maintained and looked after by the facility managers.
"Bacteria must have entered into the water supply, whether through the storage tanks or a breakage."
Dr Jarvinen warned sufferers to avoid becoming dehydrated.
 "Gastro caused by bacteria can give you nausea, vomiting, stomach cramps, diarrhoea (sometimes with blood in it) and fever," he said.
"There is also a risk of dehydration, especially for young children and babies, the elderly and people with serious medical conditions. If gastro is severe or continues, even fit and healthy people can become dehydrated so it is important to keep your fluid levels up, including using rehydration solutions available from your pharmacist."