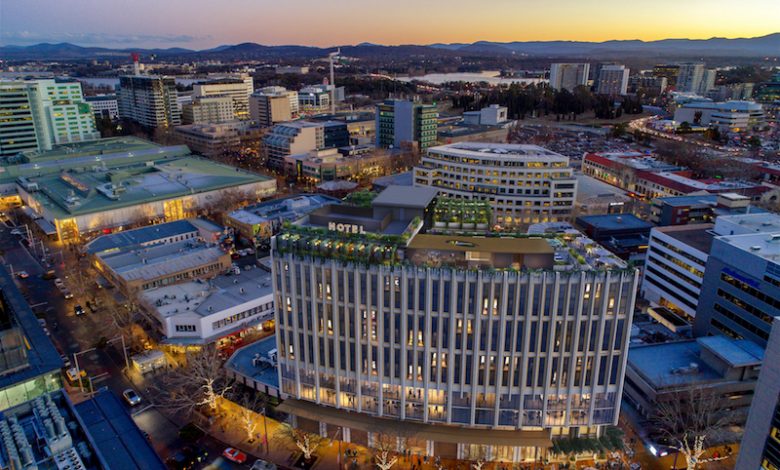 An 11-storey luxury hotel will spearhead a major regeneration of Canberra's Garema Place city plaza.
The $120m five-star Fender Katsalidis-designed hotel will be built in the heart of the national capital by local developer Geocon and encompass 200 rooms, a rooftop pool and bar alongside offices and an expansion of local institution Gus' Cafe.
The design and construction pairing have worked together on several accommodation projects intended to revitalise the capital's inner suburbs, including the Midnight Hotel and soon to be developed hotels for Kingston Arts Precinct and the West Block, as well as the Dusk and Republic apartment complexes.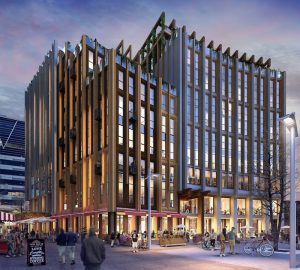 Associate director Jacqueline Bartholomeusz says the new Canberra City Luxury Hotel at 60-70 Bunda Street, granted planning approval this week, continues the trend towards high-quality Canberra hotels that tie in with regeneration schemes across the city.
"The project offering with luxury hotel, commercial and entertainment options, as well as its overall design, will play a vital role in the reinvigoration of Garema Place," she said.
"Each of the hotels we have created for the city has an incredibly unique design, which we have ensured continues in our Garema project.
"In this instance, it is a contemporary building with vertical detail and a subtle curved façade reflecting Bunda Street. The design is very much a response to the individual geometry of the site and overall needs of the precinct.
 "We are confident that the project can bring people back into the city with this important reinvigoration."
The approved design for the Civic plaza is shaped so the building "cascades" south to allow sunlight into the plaza and allows for expansion of Gus' Place.
"We are excited to have another opportunity to work with Fender Katsalidis on a project which will change the character of Canberra's inner city forever," said Geocon managing director Nick Georgalis.
"They share our vision for the future of Canberra, and we look forward to seeing this stylish, luxury hotel take shape."
Construction is set to begin in late 2020 and slated for completion in 2022.