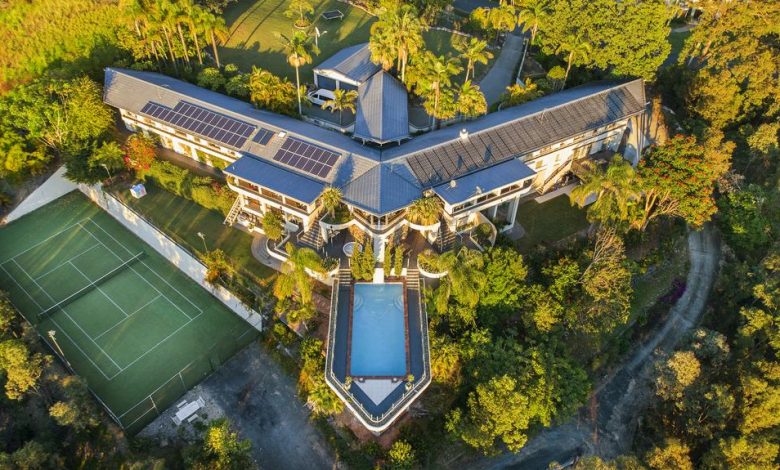 A millionaire Airbnb owner taken to court over opulent parties held at his Gold Coast mansion has admitted to unlawfully hosting private functions and agreed to apply for a short-term letting permit.
Blair Nathan Harding has agreed to stop hosting parties, including weddings and corporate events, in his Wings Hinterland Retreat in Tallai.
It comes as part of a settlement with Gold Coast City Council, which alleged in documents filed in district court that Mr Harding had broken planning laws by renting the property on Airbnb to host extravagant parties.
The council alleged that Mr Harding has hosted some 16 events on his retreat over the past two years, including a promotional party for Sexpo which involved porn stars and strippers.
According to The Daily Mail, the council filed Instagram clips from the Sexpo party to the Planning and Environment Court as evidence.
The Wings Hinterland Retreat on Red Oak Drive, which sleeps 25 people and can be rented from $1,500 per night, has prompted numerous noise complaints from neighbours over late night disturbances and a proliferation of parked cars.
Harding told judge David Kent he would apply for a permit to change his home to a short-term accommodation site before March 31 and would not host any parties at the property without the requisite permission. The court ruled Harding must state on the property's website that there can be no parties held at his home.
Gold Coast Councillor Glenn Tozer told The Courier Mail: "Particularly in the hinterland, where residents expect privacy, peace and quiet, it also remains critical council considers the environmental impact of certain activities via thorough assessment of development applications.
"Now that the next steps have been resolved by agreement between parties, I hope that any relevant applications will be lodged within the stipulated timeframes for that assessment and all unlawful activity will cease."
Unregulated party houses disturbing neighbourhoods has long been an issue for the Gold Coast, which has a reputation as a holiday party town.
In August last year, AccomNews reported neighbours of a multi-million-dollar home rented out on Airbnb saying their weekends were "being ruined by drunken party-goers stripping naked, playing loud music, peeing on their lawns and parking their cars all over the street".
ASTRA – the Australian Short Term Rental Accommodation Association – said at the time such properties were giving the entire sector an undeserved bad name.
"Responsible short-term property renters want these shut down as well," said spokesperson Peta Morrison.
"Irresponsible hosts, owners and agents are causing massive issues for the short-term rental industry in Australia and the press is only too happy to keep sharing the bad stories."
At the time, Gold Coast City Council was criticised for its failure to enact its significant powers to fine Airbnb owners for antisocial guest behaviour.
In a statement given to Daily Mail Australia, Mr Harding said he was happy with the result.
"Essentially council want to stomp out people hosting wild parties, weddings and bucks parties in residential homes. We fully agree with this and now comply with this stance," the statement reads.
"Despite a few small weddings that slipped through the gate, and a few personal parties we have thrown ourselves, and will continue to do, we no longer accept booking for parties of any description."