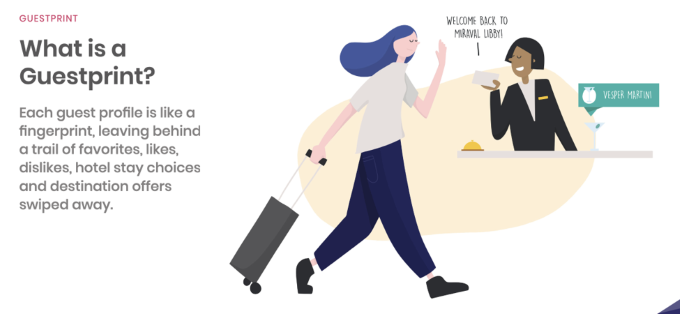 Your guests are unique. Their passions, journeys, and personality traits push them beyond easily defined demographics.
In the age of "customer-first" and machine learning, guests expect hotels to service and communicate based on subtle nuances and details. Guest expect these messages in the channels they prefer and will ignore messages that don't resonate or that appear irrelevant, tone-deaf, or untargeted.
Each guest has a series of favourites, likes, dislikes, stay patterns, preferred hotels, and overall preferences that shape their experience.
Similar to a fingerprint, each guest leaves behind a guestprint, a distinctive, one-of-a-kind mark that encapsulates all kinds of data. A guestprint correlates each guest with a corresponding profile.
Step 1: Define your personalisation tracks
To define your personalisation tracks, you'll need to determine six key characteristics. As an illustration, we've taken the example of Libby, who wants to book a girlfriend getaway to Austin for a holistic spa retreat and to see some live music. Here's how the six characteristics define Libby's guestprint.
Intent
○              Intent is valuable because it highlights the guest's frame of mind when searching for a hotel. The intent shapes how the guest wants to be treated, what information they're looking for, and what the desired objective is. 
Customer status
○       It's important to understand the guest's relationship with the hotel. Have they stayed here before? Are they affiliated with a loyalty program? Are they somehow familiar with a sister brand? This information helps ensure proper Personalisation throughout the guest journey.
Geographic
○       Where the guest is located determines which type of offers may resonate the most. It also reveals critical insights around languages and cultural preferences.
Demographics
○       These quantifiable characteristics define the guest from categories like sex, age, family status, job and income, and are the most common ways to personalise.
Psychographics
○       These are internal characteristics, such as personality, values, beliefs, interests, and attitudes that shape a guest's worldview.
Behavioural
○       Behavioural patterns, such as past stays and recent searches, reveal a lot about how, when, for what purpose, and where a guest prefers to travel — and what they are considering in the future.   
Step 2: Map the touch points along the guest journey
Once you've defined your guestprints, the next step is to map guest touchpoints. Each interaction is an opportunity to further refine the guest profile. If you haven't already, plot each touch point in a linear graph so that you can have a full picture of where and how you communicate with guests. This becomes the baseline for evolving and improving those touchpoints with data derived from your guest prints.
Let's consider a quick example: the Miraval Hotel in Austin. The hotel has taken a methodical approach to building a guestprint mindset.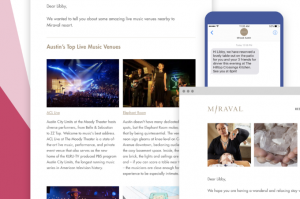 Before stay: Miraval maintains top-of-mind presence with its ongoing search ads, as well as pre-arrival emails and texts. These messages provide not just confirmations but additional touchpoints to promote on-property amenities, such as classes and spa treatments.
During stay: Personalised messages sent during the stay ensure that everything is going well — and gives the guest an easy way to discover nearby things to do, as well as upsell opportunities to drive additional revenue with offers tailored to their preferences.
After stay: A personalised, loyalty-focused message offers a discount for a repeat stay, while targeted ads continue to keep the resort top-of-mind for that future repeat visit. The cycle must be continuous and relevant, as it's what keeps the guestprint accurate, timely, and relevant. 
Step 3: Choose the right technology
Technology is an essential ally for decoding guestprints. With the right tech, you'll be able to more easily activate the various data points into a single profile that shows you all relevant details.
CRM. Customer relationship management software, or CRM, is your central source of truth for guest profiles. This is where you track guest communications, preferences, and patterns.
A capable CRM maintains your guestprints and enables you to effectively (and accurately) personalise across touchpoints.
Digital marketing tools. If the CRM is the heart of your guestprint approach, your digital marketing tools are your arms and legs. These are the tools that you use to actively engage with guests across channels and touchpoints. To be most effective, hotels should use a blend of email marketing, display ads, and retargeting.
Push notifications and text. As more consumers prefer text messages, a guestprint approach increasingly relies on push notifications (for those brands with an app) and text messages. These touchpoints facilitate greater Personalisation and provide the personal touch across the guest journey.
Step 4: Use artificial intelligence to automate personalisation
Of course, all of this is quite complicated. It also sounds like a lot of work, right? The reality is that manually entering these types of details is a tedious process, one that's impossible to do consistently across systems and teams manually.
Thankfully, automation can help reduce the burden on your staff and increase the overall accuracy of your guestprints.
Lean on artificial intelligence to accomplish the following key Personalisation tasks:
Personalise welcome emails. Personalising the welcome email is your chance to not just create an instant connection with guests, but also drive incremental revenue. For example, "Thanks for your reservation, John. We look forward to seeing you" magically becomes "Thanks for staying with us again, John. We reserved you a room facing the pool. Click here if you'd like to book a discounted massage at the spa," and contain images most relevant to the guest's lifestyle.
Mine data for targetable insights. The naked human eye can detect far less than an artificial intelligence engine that continuously scans for patterns. Let the system mine your data for essential insights that help you better serve the guest and offer more relevant offers.
Create dynamic segments. AI can segment guest profiles dynamically, using guest habits, interests, preferences, spending, and loyalty to evolve segments without human intervention. Intelligence algorithms fit the pieces of the puzzle together to calculate the best messages to guests.
Build adaptive upsells. Artificial intelligence can unlock revenue opportunities with past data and create feedback loops so those improvements always enhance offers. Let your upsells adapt accordingly!
Enhance guest profiles. Guestprints must go far beyond email, age, and address. Central data intelligence warehouses weave disparate databases from across your PMS, POS, CRS, and F&B to create a "Single Version of Truth," which includes guest history, value, preferences, behaviour, satisfaction, and intent.
Bring it all together
A guestprint approach empowers your hotel to connect more authentically with your best guests, combining the art, science and passion of hospitality to learn guest preferences and distil recommendations based on a traveller's unique profile. It's about personalising across the entire experience, from pre-arrival to in-stay to post-stay.
Each touch point becomes memorable, relevant, and authentic. When your hotel engages at a personal level, you build trust, boost loyalty, and drive results. That's the power of the guestprint!