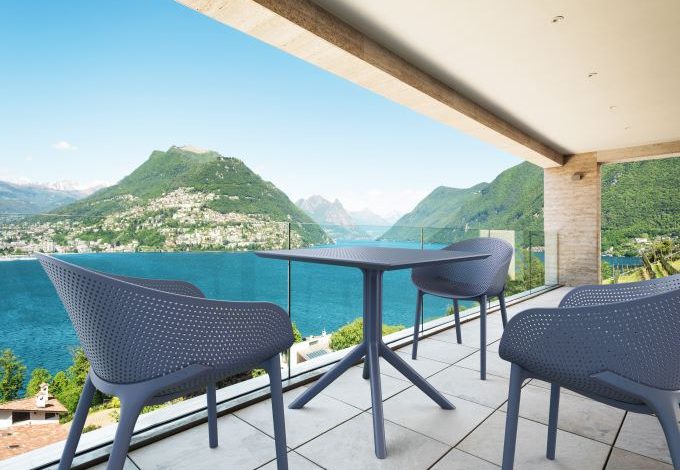 Industry
Sitting pretty: How to make outdoor settings work for your accom
Soaking up al fresco moments is one of the great joys of a holiday getaway.
Appealing outdoor spaces make guests happy – and more likely to linger on their loungers as they soak up the ambience of a pool deck or verandah.
Jason Condon, owner of Daydream Leisure Furniture, told us: "If you were to ask potential patrons where in the resort they intend to spend most of their time, I would suggest the balcony and pool area would be their answer.
"Given this, the furnishings offered in those areas should be of prime importance."
The first thing to remember when investing in outdoor furniture is that you are buying for a commercial environment and it needs to withstand sustained abuse from guests, weather and various unguents. Visual appeal is important, but practicality is paramount.
What are the best materials? Jason recommends a quality polypropylene as "the most practical low maintenance, value-for-money material" which "offers the most durability and comfort".
"Next best would be aluminium, followed by timber and wicker," he says. "Timber generally requires ongoing maintenance and wicker has a limited life in full UV, while both generally involve cushioning, which has its draw backs. Most people think rain is the biggest threat, whereas UV is actually a more destructive force and dictates the use of high-quality materials for furniture longevity."
James Lindqvist, sales manager for Nextrend, told AccomNews there are three things to consider when furnishing balconies, whether in a high-rise building or a deck on a cabin:
Weather. The environment in which the furniture will be placed plays a major factor in the type of furniture you should use.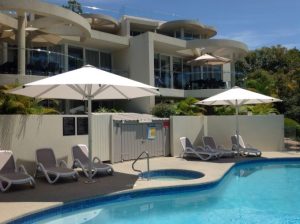 Coastal areas are subject to salt air, which can cause certain materials to rust.  Additionally, sand being blown in the wind can eat into the surfaces or finishes of some materials, which may cause early ageing on the product. 
The amount of sunlight the furniture will be exposed to also a major factor. Furniture in direct sunlight can fade and degrade.  Certain surfaces can also get extremely hot.  You will want to look for products that contain a high level of UV stabilisation or experience minimum heat absorption or ageing when exposed to prolonged sunlight. 
Lastly you have rain, hail and snow. 
If your furniture is expected to get wet, you should consider how the material responds to moisture. 
Utilise waterproof cushions and consider seating which contains holes or perforations to allow water and wind to flow through and speed up the process of drying.
Wear. As the weather can prematurely age your furniture, you need to consider the longevity you seek to get out of the furniture and the best material to deliver this. Timbers and metals may require ongoing maintenance to ensure longevity. Wicker furniture can rust and unravel overtime. 
The ideal product for longevity is UV Stabilised polypropylene. This product will not rust, unravel and if you have purchased quality products, fading should be minimal over an extended period of time. If purchasing Polypropylene, check the quality of the brand and the warranty terms for fading.
Products that do not warrant against fading may not have the same levels of UV stabilisation as other products in the market, meaning they are likely to look OK for a season, but may quickly fade.
Space. Lastly and possibly most importantly is space.  When selecting your furniture, you need to know what you want to use the space for, and how people are to move through the space. 
Balconies come in all shapes and sizes, and thus a dining table may suit some, whereas a couple of chairs and a side table may be best for others.  You do not want to overcrowd your balcony, so consider café style table and chairs if looking to maximise use without taking up too much space.
We asked Jason Condon to shed some light on best options for shading outdoor settings using commercial umbrellas. He told us:
Umbrellas are a fragile thing by nature and as such, management and common sense are required – particularly in regards to wind. Generally, they fall into two categories; non wind-rated free-standing with a base, and wind-rated permanent fixture. In addition, they can be centre post or cantilever.
We always suggest wind-rated for commercial environment common areas. They require far less management, last much longer and are less likely to be handled by patrons. In addition to that, we suggest centre post over cantilever, as physics dictates that the centre post provides a much stronger structure with the load shared.
Most people are attracted to the idea of a cantilever, but the spend required to get true commercial quality and the fact that patrons tend to want to operate them detract from the benefits.
If they opt for less expensive free standing then I would suggest high-quality materials, solid structure and minimal moving parts such as winders and tilt mechanisms, as this is where they will fail.   
Also, as with any purchase, ask if they can be repaired and if your vendor is capable of carrying out these repairs. There are so many small quality factors which go into manufacture of umbrellas and outdoor furniture.
A chain is only as good as its weakest link, so if one of these seemingly inconsequential components fails, it can render the product a throw away.