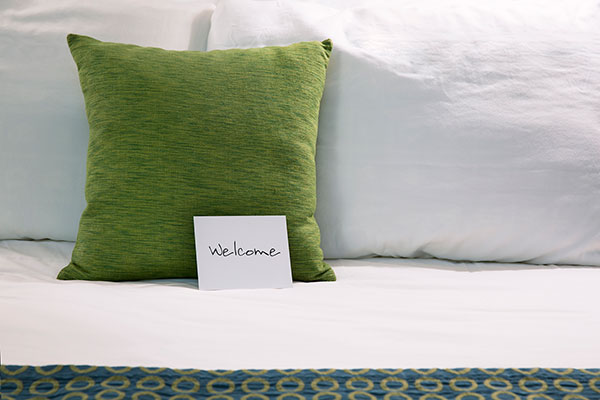 Industry
Apartment dwellers fearful of isolation Airbnbs
Apartment residents say their buildings could be turned into coronavirus hotspots as short-stay hosts increasingly promote self-isolation packages to guests.
While accommodation providers struggling to fill beds are beginning to market their solitude attributes to those looking to quarantine themselves, their neighbours in strata buildings fear the practice is putting residents at risk of infection.
Jane Hearn, deputy chair of peak strata body the Owners Corporation Network, has written to Kevin Andrews, minister for better regulation, describing the practice as a "very high-risk development".
"It increases the viral load on apartment owners and tenants and it defeats the public health strategy," she said.
Apartment residents fear infected guests might not strictly adhere to stipulations about staying within their rentals, bringing them into direct and indirect contact with residents as they move about the building touching key pads, riding in lifts and touching surfaces in shared spaces.
There are also concerns, as voiced by anti-short stay campaigners Neighbours Not Strangers, that strata buildings with sub-standard air circulation systems put residents at risk. "Truly haunted are those residents aware that the air ventilation and recycling system in their building in nonoperational" the publication has told its followers.  
As AccomNews reported on Thursday, accommodation providers around the world are looking to cash in on the seclusion market, with guests required to self-isolate after travelling abroad or coming into contact with COVID-19 sufferers representing a solid 14-day booking.
Packages advertised by accommodation providers around the world include supermarket and takeaway food deliveries, video game libraries and streamed AV options for those required to hunker down.
But some strata organisations say travellers who don't want to put their own families at risk are instead potentially endangering the lives of their apartment neighbours during isolation.
According to the Australian Financial Review, Melbourne-based housing organisation WeLiveHere is urging the Victorian government to ban self-isolation in apartment short-term rentals.
"In compliance with [new self-isolation laws], the state government must now ban overseas short-stay guests in residential buildings or provide information on how this can be policed," the group's chair, Barbara Francis, emailed members.
The Australian College of Strata Lawyers last week called for state governments to help owners and strata managers understand the implications of apartment living in the shadow the COVID-19 threat.
Trevor Rawnsley, CEO of the Australian Resident Accommodation Managers Association (ARAMA), says members are becoming increasingly concerned about such issues.
But he also expressed ARAMA's fears about the threat of the tourism downturn to those whose livelihoods depend on renting out their apartments as holiday accommodation.
"We are deeply concerned about the financial position that our members find themselves in, particularly those involved in tourism," Rawnsley said.
An official NSW health ministry official fact sheet on COVID-19 advises self-isolating apartment dwellers, whether visitors or residents, to "please go quickly through any common areas on the way there".
"Once you get to your home or hotel, you must restrict activities outside your home/hotel, except for seeking medical care,' it says.
"You should not go to work, school/university/childcare, the gym, or public areas, and you should not use public transport, taxis, or ride-sharing services.You can go into common garden areas while wearing a surgical mask."